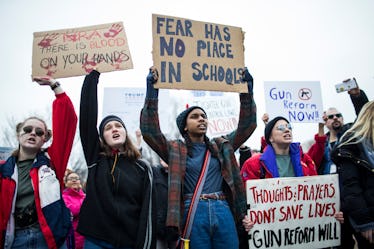 Here's What Time To Join Up With The NYC March For Our Lives
Zach Gibson/Getty Images News/Getty Images
Thanks to an awful tragedy and a dedicated group of high school students, gun control has become a prominent topic of conversation in America. Since the Feb. 14 school shooting in Parkland, Florida, there's been a call to action on gun legislation by the very students who survived the tragedy. The main event will take place in the nation's capital, but if you are in New York City and can't make it to Washington D.C., you might want to know when the March For Our Lives in NYC starts so you can participate in this important event.
With people all over the country wanting to help with the March For Our Lives, "sibling marches" have been popping up all over. Each satellite event has its own details, but New Yorkers who want to take part in the New York City March should gather at 10 a.m. on Saturday, March 24 at West 72nd Street and Central Park West. The actual rally and speakers won't start until 11 a.m., but marchers should start arriving early in order to help organizers accommodate the crowd. Following the rally and speakers, the march will head east on Central Park South, then down Sixth Avenue before ending on 43rd Street.
Be careful where you come in, though — organizers for the march note that there's no entrance below 72nd Street. Depending on the size of the crowd, the NYPD might move the entrance north to 79th street, so keep that in mind if you think you are running late.
In order to keep up with any changes or get updates on happenings during the NYC event, you should make sure to follow NYC - March For Our Lives on social media. It will be posting crucial information until and throughout the event.
You can RSVP to the New York City event though its Facebook page, or on the March For Our Lives site.
Participants can expect some speakers and performers, but there is no final word on who they will be. The Facebook event states that organizers "are in the process of inviting speakers who have been impacted by gun violence, including a Parkland student." Organizers will be updating all of the pages leading up to the event.
There's also some other important information organizers want you to know.
If you are planning on participating in March For Our Lives NYC, get out your fanny packs, as no large bags will be permitted. If you are planning to hit a bodega first for some snacks and drinks, only transparent plastic bags will be allowed, so keep that in mind.
It is a protest and so people are allowed and encouraged to bring signs, but the signs cannot contain any metal or wood.
March For Our Lives NYC also asks that everyone who plans on joining the event understands what it's about. "This is not about politics or photo-ops," the event page reads. "This is about STUDENTS and all victims of gun violence."
Everyone should keep in mind that they are marching to support the mission that survivors of gun violence have organized. The event's description on Facebook reads,
School safety is not a political issue. There cannot be two sides to doing everything in our power to ensure the lives and futures of children who are at risk of dying when they should be learning, playing, and growing. The mission and focus of March For Our Lives is to demand that a comprehensive and effective bill be immediately brought before Congress to address these gun issues. No special interest group, no political agenda is more critical than timely passage of legislation to effectively address the gun violence issues that are rampant in our country.
This is about making sure kids feel safe going to school. So remember to march with purpose, follow the rules, and stay safe.