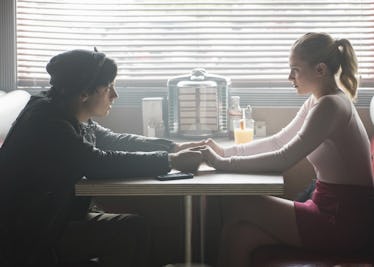 'Riverdale' Will Return After The Holidays, So You Have Plenty Of Time To Theorize
CW
It's that time of year again, when your favorite TV series start going on their holiday breaks. Though it may be cold outside, with lots of vacations scheduled over December and holiday specials to squeeze in, this is the point in the broadcast network calendar when most shows take a break, and return once more in 2018. The CW is not immune to this schedule. So when does Riverdale come back?
If you clicked on this post, worried that the fall finale is closer than you thought, do not fear, my Bugheads. The show didn't start until October, so we still have a couple more weeks to go. This week's episode, "Chapter Twenty: Tales from the Darkside," which airs on Nov. 29, is not the last one for this year.
The synopsis for this week:
Riverdale remains on edge after a chilling letter from the Black Hood challenges the town's residents to remain sinless for 48 hours – or he'll strike again. Meanwhile, Jughead and Archie's friendship gets tested after Penny Peabody unexpectedly calls in a favor that Jughead owes her. Elsewhere, Betty and Veronica team up to investigate someone who Betty thinks could be the Black Hood killer. Finally, things take an unexpected turn for Josie when a secret admirer takes things one step too far.
What we will have instead is a winter finale, which isn't for a couple more weeks yet. The final episode of 2017 falls on Dec, 13, 2017, and it is, perhaps appropriately, entitled "Chapter Twenty-Two: Silent Night, Deadly Night."
The synopsis for that:
After snooping around for Christmas gifts, Veronica uncovers a major secret Hiram has been keeping from her. Fallout from Jughead's encounter with Penny Peabody creates tension between him and FP. Meanwhile, a defiant Cheryl takes matters into her own hands after Penelope tells her they cannot afford Christmas this year. Finally, Betty and Archie's vow to take down the Black Hood once and for all leads to a dangerous showdown
Supposedly this will be the episode in which our killer, the Black Hood, is revealed. So it's good news all around, more episodes before the break, and a promise that we won't go into Christmas still wondering about the green eyed killer's identity.
But because the show still has a couple more weeks to go that also means the return to TV won't be quite as quick as some others. Shows that are ending their 2017 portions this week are all scheduling themselves to come back the first week of January. Since Riverdale won't go off air until Dec. 13, it won't be coming back until mid-January. Wednesday, Jan. 17, 2018, to be exact. The title of the episode the show will return with is already revealed. It's "Chapter Twenty-Three: The Blackboard Jungle." No synopsis has been announced for this as of yet.
This return moving up to January is big news for Rverdale fans who aren't watching episodically week to week, but waiting for all the episodes to arrive on Netflix when the season ends. Originally some thought the back half of the season, consisting of 11 episodes, wouldn't return until March, which was when the first season of Riverdale debuted. That would put the Season 2 final in May, and leave fans who are holding out for it to come to Netflix will a long wait indeed.
But with a return in the much more reasonable (and normally scheduled) mid-January, that puts the Season 2 finale somewhere around the end of March, or beginning of April, depending on the way things shake out.
With spring breaks for shows not coming until April 2018 this year, having the series run straight through with no breaks, and the finale of Riverdale Season 2 fall on March 28, 2018 would be ideal, as long as there are no interruptions.
With Netflix's deal then being a eight day waiting period before the entire show gets uploaded for streaming, this would put Riverdale Season 2's Netflix debut date one week later, on April 5, 2018. That gives the show a full six months of streaming to continue to build that key teenage audience ahead of what must be assumed for the TV season 2018-2019: Riverdale Season 3.
Riverdale's fall finale airs at 8 p.m. on The CW on Dec. 12, 2017. It will return for the second half of episodes starting Jan. 17, 2018, at 8 p.m. on The CW, followed by Dynasty at 9 p.m.