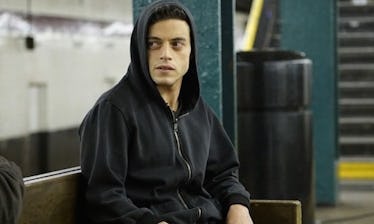 Here's Everything We Know About 'Mr. Robot' Season 4
NBCUniversal Television Distribution
Mr. Robot is gearing up to air its third season finale on Wednesday, Dec. 13 after yet another intense set of episodes for the USA hit hacker drama. We're willing to bet fans aren't going to see Elliot and company wrap up this rocky and complex road in a tight little package, so of course we're already wondering if and when the show will return to tie up all the loose ends. When does Mr Robot Season 4 premiere? There's no official word on 2018's plans for the series, it's pretty safe to say it's coming back.
Back in 2016 when the show was in its second season, creator and director Sam Esmail predicted that the show would at least go beyond three seasons, even it wasn't supposed to play out like that from the development get-go. He told Variety how he envisioned tackling the show's future, revealing,
Initially this was supposed to be a feature-length film and so I know where we're going and the ending, so probably about four or five seasons. I like to know where we're going and where we're heading. I think it's tougher if it's open ended, my brain doesn't work like that but hats off to those who do.
As for when that fourth season could make its debut, we have to assume summer or fall of 2018 is a safe guess. The first two seasons of the Mr. Robot aired over the summer months. Season 3 was pushed to a fall schedule and began filming in March of 2017. Unfortunately — and perhaps it has to do with its more competitive time slot — Robot's viewership hit a series low when it came to its ratings back in October.
Mr. Robot has had quite the strong showing at the Golden Globes since it premiered in 2015, but its less likely that will be the case in 2018. It was somewhat a shocker when the newbie beat out a TV heavy-hitter like Game of Thrones for Best Television Series, Drama in 2016. Christian Slater also took home a statue that year, and Rami Malek got a nod for his performance. Last year the show nominated both the actors yet again, although what some considered a shakier second season did not receive a nomination for the Best Series category they had been victorious in the year prior.
Star Rami Malek also has a major project on his acting plate in addition to his angsty TV gig as Elliot the sympathetic hacker these days. He's currently working on the highly anticipated Freddie Mercury biopic, Bohemian Rhapsody — a film that's been in the making for over six years at this point. Sasha Baron Cohen was originally attached to the role as Queen's frontman but dropped out back in 2013. In addition to the shakeups that led up to filming, it was announced Wednesday, Dec. 6 that Dexter Fletcher recently replaced director Bryan Singer following his termination.
While we wait for Rami to go Radio Ga Ga on the big screen, we still have next Wednesday's Season 3 finale of Mr Robot to get through. According to Grace Gummer, who plays Dom, the next episode is going to be a doozy. She told EW,
There's so much crazy s— that happens. It's really annoying to have to keep so many secrets, especially from people I love that love Mr. Robot, for this long. But I can tell you that I went to pretty dark places in my mind. And the episode is pretty dark. And you see different sides to everyone and unexpected… I don't even know what to say, I don't want to ruin anything [laughs]. I did work the longest, most grueling hours that I've worked on the show on that episode, so everyone is in for a treat.
Here's hoping the hints about Season 4 start rolling in soon. Who knows what will happen next?