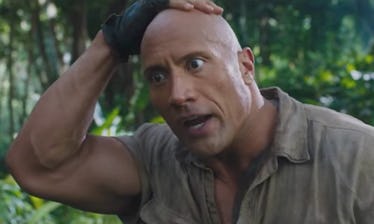 'Jumanji 3' Is Officially Happening & The Rock Himself Confirmed It
Sony
You didn't think you've seen the last of the Jumanji films, did you? Come on. The overdue reboot of everyone's favorite board game cautionary tale was one of 2017's biggest success stories, and you know Hollywood doesn't sleep on continuing lucrative franchises these days. Especially when a mega-star like The Rock is involved. The social media savvy actor also known as Duane Johnson officially announced on Wednesday, April 11 that a follow-up to Jumanji: Welcome to the Jungle is a-go. When does Jumanji 3 premiere? The Rock is teasing the blockbuster's upcoming installment.
Johnson took to Instagram live from London on Wednesday to express his overwhelming gratitude for Jumanji's record-breaking success, as well as give some hints about its confirmed sequel. He excitedly shared:
I got some news last night I had to share with you guys, at about 2:30 in the morning to be exact. You guys officially made Jumanji Sony's domestic movie ever. Ever. Beating Spider Man and 007 and all these other amazing movies over the decades. I mean, it's incredible. Never in my wildest of wild dreams did I ever think that Jumanji would be in the billion dollar conversation. I just want to say thank you guys so much, from the bottom of my heart. I always have one goal with these movies, it's always giving the audience what they want. I always listen to you guys. Sending you home happy is my most important thing, so thank you guys so much. Love you guys so much. As producer of Jumanji, we are working on the sequel right now.
Wait, will a major character not have the chance to return for more Jumaji fun? The Rock also joked that he wanted to "give the people what they want" by offing zoologist avatar Franklin "Mouse" Finbar. "I'm going to go ahead and kill Kevin Hart's character off for good and everybody will be happy," he laughed in the post. I'm guessing he's trolling us (and Kevin), because Hart's absence would be an unfortunate comic loss.
The Jumanji 3 release date has not been announced, but there have been some speculations about when it could potentially come out. MovieWeb supposes that another December release might make sense, based on the fact that it did so well in the holiday season of 2017. Jumanji: Welcome to the Jungle went up against Star Wars: The Last Jedi the same week (who dares to challenge that cinematic force?) and still did gangbusters. While Jumanji got second place opening week, it continued to thrive at box office in the weeks after it initially hit theater. Star Wars 9 is slated for December 20, 2019, so perhaps Sony will bank on another face-off between two juggernaut franchises?
The first Jumanji film, which came out way back in 1995 and starred the late Robin Williams and a baby-faced Kirsten Dunst, was adapted from the beloved 1981 book of the same name by author Chris Van Allsburg. Of course, that OG version revolved around the perils of a magic board game, while 2017 made the jump to a more modern concept — a video game. I'm thinking Jumanji 3 will likely follow in the latter's footsteps, unless the writers can think of taking the technology aspect even further. Will the gang get trapped in a hologram? A haunted self-driving car? An Instagram story on a never-ending loop? Probs not, but I'm just throwing out (very poor) ideas here.
Congrats to Jumanji: Welcome to the Jungle on becoming Sony's highest-grossing domestic film of all time. Not bad for a sequel that was over 20 years in the making. Pressure's on for the next one, Hollywood.