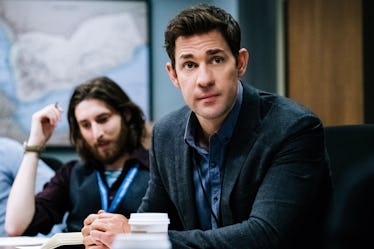 Here's What Fans Should Know About The Already Renewed 'Jack Ryan' Season 2
Amazon
Tom Clancy's Jack Ryan arrived at the beginning of the long holiday weekend, and with a mere eight episodes, most fans of the original films have burned through Amazon's updated reboot. The show aims to feature the famous CIA analyst in his early days before fans met him in The Hunt for Red October, but this is no period piece. Instead, young Jack Ryan (John Krasinski) is fighting today's war on terror, working to take down "Suleiman," (Ali Suliman) a fanatic intent on taking down the world. So when does Jack Ryan Season 2 premiere? Will fans get to see Jack on his next adventure soon?
The good news, for those who enjoyed Season 1, Amazon already green lit Season 2 before the first season premiered. Like many streaming services, Amazon's freedom from worrying about advertising revenue gives it the ability to double down on a show it likes the look of early on, without having to worry too much about what everyone else thinks.
Amazon actually has more freedom to do this than most. Unlike other streaming services like Netflix and Hulu, who do have to concern themselves with subscribers, every single person who signs up for Amazon Prime's shipping service is automatically made a subscriber. Also, with all the original Tom Clancy books for sale on Kindle, as well as the 1990s era films on Amazon Video, having the series run more than one season helps with corporate synergy.
As it is, Jack Ryan seems to have made a positive impact on Amazon's bottom line even before it's arrival. The first trailer made such a good impression, Amazon Prime memberships rose. According to Deadline, Jennifer Salke, Head of Amazon Studios, was delighted with how the show was polling ahead of release:
With so much early anticipation for Tom Clancy's Jack Ryan from our customers and personally having the pleasure to preview the exhilarating, action-packed first season, we are excited to greenlight a second season of the series months ahead of its debut. The new season will take our unexpected hero to a new, exciting and dangerous world.
Jack Ryan producer Carlton Cuse added:
We're thrilled that the first season has generated so much enthusiasm. We couldn't be happier to be working with Amazon and to be filming very near the Amazon to tell the next great Jack Ryan adventure.
Jack Ryan's first season focused on Europe and the Middle East. According to the synopsis, Season 2 will head to a whole different corner of the world. Like Season 1, it too will run eight episodes.
In season two, Jack Ryan (Krasinski) confronts the forces in power in a dangerous, declining democratic regime in South America. The second season commences production this summer in Europe, South America and the United States. Also returning for Season 2 is Wendell Pierce who will reprise his role as James Greer.
No word on when Tom Clancy's Jack Ryan Season 2 will premiere, but chances are another summer debut will be likely. Season 1 is streaming on Prime now.