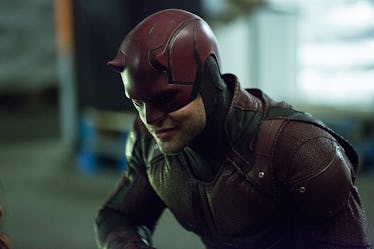 Here's Everything Marvel Fans Need To Know About The Status Of 'Daredevil' Season 3
Netflix
Like the Marvel Cinematic Universe on the big screen, Netflix has been slowly ramping up the number of releases for their Marvelverse per year since the interconnected shows began. They released two shows a year in 2015 (Daredevil, Jessica Jones) and 2016 (Daredevil Season 2, Luke Cage). Last year, they bumped it up to three shows (Iron Fist, The Defenders, The Punisher). This year, the announced slate was three shows again, Jessica Jones Season 2, Luke Cage Season 2 and Daredevil Season 3. So when does Daredevil Season 3 premiere? Jones and Cage have already arrived, but the show coming out next in September is not Daredevil. It's Iron Fist Season 2.
When Marvel TV announced at San Diego Comic-Con Iron Fist would be the next show up in the Netflix slate for 2018 instead of the previously announced Daredevil, fans were sort of surprised. Netflix's production had ramped up so much, speculation was already rife the streaming service was planning four releases this year. In 2017 the release schedule was March, August, and November. But then Luke Cage Season 2 arrived early, debuting in June. This suggested the pattern this year would be March, June, September, December, with Iron Fist Season 2 being the fourth 2018 release.
So what happened for Iron Fist to be bumped up? More importantly, why wasn't there an assurance Daredevil Season 3 was still part of the 2018 slate?
At the Television Critics Association summer tour Netflix VP of original content Cindy Holland addressed the delay. According to Deadline:
The biggest issue was the timing of production and launching of The Defenders because what that meant is we had to shut down all of the shows, so all the actors be available for The Defenders so it's more function of that. There is no problem with this season, I think it's fantastic, it's real return to form in my view.
Iron Fist Season 2 and Daredevil Season 3 were finished at the same time, both shows wrapped filming in May of this year, Iron Fist in the first week of May, and Daredevil two weeks later. It's a savvy move. By dropping Iron Fist Season 2 first, if the show flops a second time, they'll still have Daredevil Season 3 waiting on deck. (The trailer suggests Netflix has done a great deal of work to improve it, but it's understandable they'd not want to rely on it to close out the year.)
As for Daredevil, Season 2 wasn't nearly as highly rated as Season 1. But it's still considered the show that launched the franchise, and as such, Netflix treats it like the flagship series. For the production to hold it back a few more months to make sure it is a return to form is natural.
Besides, as far as Jones, Cage and Danny Rand are concerned, after the events of The Defenders, Matt Murdock is dead. Jones and Cage each referenced this in their second seasons. If Rand does the same in Iron Fist Season 2, it would also be reasonable for Netflix to want to air it before hitting Daredevil's third season and Murdock's resurrection.
Daredevil Season 3 still supposedly will arrive on Netflix sometime in 2018.