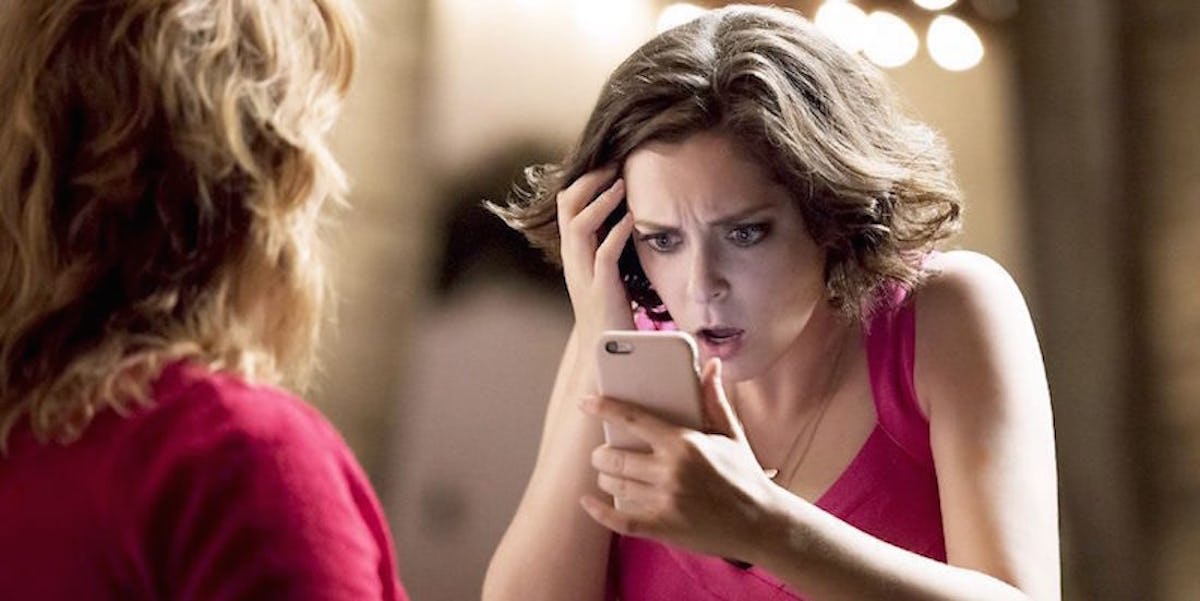 Crazy Ex-Girlfriend' Season 3 Is Taking A Quick Break, Here's When It Returns
CW
The holidays are a time for spending time with loved ones, eating copious amounts of pie because it's acceptable, and getting cozy by a crackling fire. But one unfortunate side affect of cheery December is the nearly month-long hiatus the majority network TV shows take. Crazy Ex-Girlfriend is just one of the shows taking a holiday break after this week. When does Crazy Ex-Girlfriend come back after Friday's episode? Have no fear! The midseason schedule is already here.
Good news for all the fans out there who don't want to go too long without being able to tune in for the greatness is Rachel Bloom and her epic everyday musical theater stylings. Any show that introduces songs with titles like "Sexy French Depression" and "Heavy Boobs" is a show I get can get behind. We need this. Crazy Ex-Girlfriend will return to the CW for its 2018 debut Friday, Jan. 5 at 8 PM, so you won't have to wait too long. Now, if you're an avid viewer of major hits like Jane the Virgin or Riverdale (seriously, why wouldn't you watch these shows?), you're going to have sit tight a little longer. Sorry, guys, but we don't make the rules.
Crazy Ex Girlfriend might be coming back into your life as soon as the first week of next year, but the CW is going to make us hold out for some other fan faves. Riverdale airs its final episode of 2017 on Dec. 13, but it won't return until Wednesday, Jan. 17. Following this week, Jane the Virgin doesn't air a new episode until Friday, Jan. 26. Supergirl comes back Monday, Jan. 15 and Supernatural and Arrow both get Thursday, Jan. 18 midseason premiere dates. The Flash speeds back on screen Tuesday, Jan. 16 right before the series premiere of Black Lightening.
A month without your favorite show sounds like an eternity in TV land, but let's just be thankful the CW doesn't run on a Game of Thrones schedule. Patience, people.
Besides, we still have a few winter season finales to get through before the break ensues. And while those juicy episodes often leave us with OMG cliffhangers and nail-biters, they often make way for major arcs to come on the entire season Remember last year when we all thought Toby was dead on This Is Us? Yeah.
Rachel Bloom recently opened up about Crazy Ex-Girlfriend's winter finale, "Getting Over Jeff," which airs this Friday. It's actually the first episode to not have a title that features her beloved (gasp!) Josh's name. She told The Hollywood Reporter during a 92nd Street Y's TV Talks discussion,
Jeff is Paula's [Donna Lynne Champlin] long-lost love, and we go home to Buffalo and we've been wanting to do this episode for quite some time. In the pilot, there's this line where Paula goes, 'I wish I had been as brave as you were when I was your age.' So we always knew that Paula felt like there was something that got away from her, and so this is an episode where we meet that guy.
We're all for ABBA-inspired musical numbers about Paula's first time, but we're also excited about the possibility of yet another Golden Globe nomination for Crazy Ex-Girlfriend in the very near future. The 2018 nods will be announced on Monday, December 11 and star and creator Rachel Bloom has gotten love from the awards show ever since her series' first season. In 2016, she beat out heavy-hitters like Julia Louis-Dreyfus and Lily Tomlin for a surprise win in the Best Performance by an Actress in TV Series, Musical or Comedy category. She was nominated again in 2017.
Whatever happens, the show has been exceptional in its third season, even if we've had that catchy theme song in our head since October.