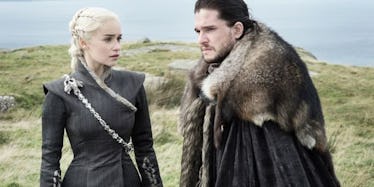 'Game Of Thrones' Filming Start Revealed, And It Means Bad Things For Season 8
HBO
Sorry, fellow Game Of Thrones fans — I have some bad news. No, no, it's not about deaths this time. At least, not the death of a character; only the death of our hopes and dreams about Season 8. A new report about the final season's filming date hints that Game Of Thrones' Season 8 premiere date likely won't be until September 2018.
I swear, if they end this season on a cliffhanger with more than a year to wait for any resolution, I will go full "fire and blood" on my TV.
Nikolaj Coster-Waldau, AKA Jaime Lannister, spilled the beans about the production date in an interview with Collider. He said,
You get the scripts a month before we start shooting, or six weeks, and then you know what's going to happen that season. But, I don't know what's going to happen next season. We go back in October, so maybe in the next few weeks, we'll get the scripts and I'll find out. I'm very curious.
"We go back in October," he said — which gives fans a major clue about when we'll see a Season 8 premiere.
Filming generally takes about six months, a timeline that's held true even in the most recent season, which only has seven episodes. So that means if filming starts in October, it won't be done until around April of next year — 2018. But that doesn't count the three to four months of post-production, either. So it looks like the earliest we're likely to see a completed Season 8 is September 2018.
September. 2018.
And that's a best-case scenario.
It's also pretty likely that even if they can get it out earlier, the showrunners will decide to hold onto it because of the timing of awards season.
Because Season 7's premiere was pushed back to July, it won't be eligible for the Emmys until next year. And if Season 8 has just started airing when awards are (maybe, possibly, probably) handed out to Season 7, that would be just really confusing. The easy solution, is, of course, to just keep it in the can a little longer.
So, long story short?
Winter is coming for our TVs. All fans must cry.