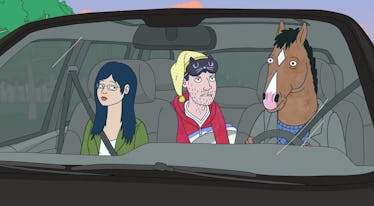 'BoJack Horseman' Finally Has A Season 5 Premiere Date & Fall Can't Come Soon Enough
Netflix
Who is ready for another helping of existential crisis couched in silly animal jokes? Well, then I have got some good news, because BoJack Horseman just revealed when it will be back for its fifth season, and of course the show announced the premiere date in the most BoJack way possible. So when does BoJack Horseman Season 5 premiere? Here is what we know about the upcoming season.
The official Twitter account for BoJack Horseman channeled its namesake on Wednesday afternoon to announce that Season 5 of the Netflix animated dramedy will be premiering on Sept. 14. That means fans only have about two and a half months to wait to find out what is going on with BoJack, Todd, Diane, Princess Carolyn, Mr. Peanutbutter, and the rest of the dysfunctional humans/animals in Hollywoo. In typical BoJack Horseman fashion, the series had some fun with announcing the Sept. 14 premiere date. Normally, these branded Twitter accounts will ignore the thousands of random commenters asking for unreleased information about the show, but BoJack took the time to super sarcastically respond to one fan asking for the new season's release date, revealing that Season 5 will pop up on Netflix on Sept. 14.
Netflix's branded Twitter account played along with the "unplanned" premiere date reveal with some fun replies to the tweet.
Along with announcing the return date, Netflix also shared the first image from BoJack Horseman Season 5. The first-look photo is dripping with melodrama, showing BoJack holding a gunshot wound on his chest while a lizard woman stands over him holding a gun.
Now don't go thinking that this means BoJack is going to get shot in the heart for real in Season 5. It looks like this is actually a scene from BoJack's new acting job, which we learned a bit about in Season 4. Last season, Princess Carolyn tried to pitch BoJack as the star of a neo-noir detective series called Philbert, and in the season finale, BoJack finally agrees to sign on. The first-look photo definitely appears to be a still from BoJack filming Philbert — you can even see what looks to be the director character, Kelsey Jannings, standing in the background overseeing the scene.
BoJack getting involved in Philbert will be just one of the new challenges that Season 5 has to address. Last year's Season 4 finale included a number of cliffhangers and hints about what direction that show may take in the new season. For one thing, while Todd continued to bounce around from one harebrained business scheme to the next, he did take control of his sexuality. Todd now confidently identifies as asexual, and a brief moment in the finale suggests that he may enter into his first asexual relationship with a woman from the Better Business Bureau.
But while romance may be on the rise for Todd, it is crashing down for Diane and Mr. Peanutbutter. The couple's marriage hit a rough patch at the end of the season when Mr. Peanutbutter lavished Diane with an over-exorbitant gift: an exact recreation of Belle's library from Beauty and the Beast. The gift freaked Diane out, and also illustrated the seemingly insurmountable differences between what she and her husband really want out of their relationship. We might be seeing Diane and Mr. Peanutbutter deal with divorce in Season 5.
And finally, the biggest cliffhanger of all: BoJack found out that Hollyhock is actually his sister, and not his daughter as he had been lead to believe. The season ended with Hollyhock reaching out to BoJack once more, this time to form a relationship as brother and sister rather than father and daughter.
Season 5 of BoJack Horseman will continue all of these stories when it premieres on Netflix on Sept. 14, 2018.