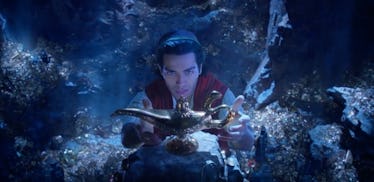 Here's Every Detail We Know About The Live-Action 'Aladdin'
Walt Disney Studios
Disney revealed the first teaser for its upcoming Aladdin movie on Oct. 11 and I don't know about you other '90s kids out there, but I got nostalgia-fueled chills. The familiar music. That sweeping desert shot. Iago. The magic lamp. It just made it all so real. The studio has a slew of live-action updates of animated favorites in the works and Aladdin is the next one up for release. So, when does Aladdin premiere? The movie is set to show you the world sooner than you may think.
While the treasure trove of a teaser (literally, you can see the glorious treasure in the Cave of Wonders) says Aladdin is coming "next summer," that sentence might confuse calendar purists. Summer technically kicks off June 21, although Aladdin hits theaters on May 24, 2019. That's the Friday of Memorial Day Weekend, to be more specific. Summer blockbuster season typically gets underway then — previous Memorial Day Weekend releases include mega-hits such as Pirates of the Caribbean: At World's End (another Disney juggernaut) and X-Men: The Last Stand. Aladdin is slated to go head-to-head with Minecraft: The Movie upon its release. Judging by the massive record-breaking success of 2017's Beauty and the Beast, it's hard to imagine a world where Aladdin is not a box office triumph.
In addition to guaranteed interest from both children and sentimental fans who loved the 1992 animated classic, Aladdin has a lot of promising elements going for it. The great Will Smith portrays Genie, the iconic character memorably voiced by Robin Williams in the original. Guy Ritchie (Snatch, Sherlock Holmes) directed. Award-winning songwriter Alan Menken, the genius behind Aladdin's music, penned new tracks for the film. Naomi Scott (Power Rangers), Marwan Kenzari (Ben Hur), and Nasim Pedrad (Saturday Night Live) also star. Mena Massoud (Jack Ryan) plays the title role.
The plot of the upcoming Aladdin seems likely to follow the first film, but don't expect a complete copy-cat.
"No one can replicate the iconic performance by Robin Williams, and we wouldn't want them to," Disney executive Catherine Taff said of Will Smith's performance at an April 24 CinemaCon panel. "Let's just say, he's a little Fresh Prince, a little Hitch, and a whole lot of attitude."
"LEMME OUT!! Can't wait for y'all to see Me BLUE!" Smith captioned an image of the poster for the film in an Oct. 10 Instagram post.
Why did Guy Ritchie — who's known for high-speed action movies — take on the beloved story? His previous filmography doesn't exactly scream Disney.
"Guy became interested in doing a Disney movie and we talked a lot about it. When we talked about Aladdin, he said, 'My stories are really about street hustlers. That's what I know how to do. And Aladdin is a classic street hustler who makes good.' Guy's got his own version of that story in his life. But he wanted to honor and respect the Disney of it all," Sean Bailey, the president of Motion Picture Production at Walt Disney Studios, revealed to Vulture in 2017. "We never want to feel like we have a playbook to these things because we worry it'll make us creatively complacent. The idea of a highly energized Guy Ritchie Disney musical felt like, Oh, we haven't done that before."
2019's Aladdin might not be a whole new world entirely, but it sounds like audiences can look forward to a creative take on the classic. Aladdin flies into theaters May 24, 2019.