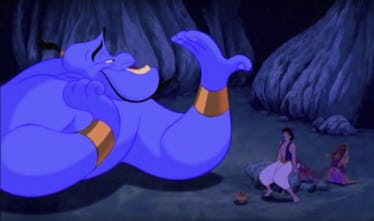 Will Smith Is Putting His Own Spin On Robin Williams' Genie In 'Aladdin' & We're Excited
Disney
If you're a kid of the '90s who watched the beloved animated Aladdin over and over again, the Genie was probably a major cinematic force in your childhood. The late Robin Williams lent his voice and incomparable comedic skills to the unforgettable part and helped make the movie a timeless classic that is still revered by fans today. It's no secret that Disney has been in a remake frenzy as of late, updating films like Dumbo, Mulan, and The Lion King for a new generation. How will Will Smith as the Genie work in their upcoming live-action Aladdin revival? The mega-movie star is putting his unique stamp on the magical role.
"No one can replicate the iconic performance by Robin Williams, and we wouldn't want them to," Disney executive Catherine Taff revealed at an April 24 CinemaCon panel. "Let's just say, he's a little Fresh Prince, a little Hitch, and a whole lot of attitude."
Now that we can get behind. Will Smith has more than proven his acting chops throughout his versatile career. Put Fresh Prince and the underrated rom-com romp Hitch in one description and you already have my undivided attention. Can your friends do this?
Can your friends do that?
OK, maybe those aren't the best examples of his capabilities, but audiences know just how thoroughly entertaining a performer like Will Smith can be. He's one of Hollywood biggest stars — he's a musician, producer, and two-time Oscar nominee. And the upcoming Aladdin will feature dancing and singing, according to Smith, which are two things the Big Willie Style hit-maker clearly knows a little something about.
Aladdin also stars Mena Massoud in the title role, as well as Power Rangers' Naomi Scott, SNL alum Nasim Pedrad, Ben Hur's Marwan Kenzari, and Game Night's Billy Magnussen. Guy Ritchie directs, which is sure to keep things visually interesting. "We never want to feel like we have a playbook to these things because we worry it'll make us creatively complacent. The idea of a highly energized Guy Ritchie Disney musical felt like, Oh, we haven't done that before," president of Motion Picture Production at Walt Disney Studios Sean Bailey told Vulture in March of last year.
Aladdin's release comes sandwiched in between some other anticipated Disney films that audiences can expect to see next year, including the live-action/CGI updates of Dumbo and The Lion King. Tim Burton is at the artistic helm of Dumbo, which stars Danny DeVito, Eva Green, and Michael Keaton. The Lion King is directed by Jungle Book's Jon Favreau and features an all-star cast of talented names like Donald Glover, Seth Rogen, James Earl Jones (oh, hey, original Mufasa!), Chiwetel Ejiofor, and, um, BEYONCÉ. The opening "Circle of Life" sequence from the film was reportedly unveiled at Disney's 90-minute CinemaCon presentation. Just thinking about the sweeping scene from the 1994 original has us tearing up...
Dumbo is set to come out on March 29, 2019, while The Lion King will debut in the summer on July 19, 2019.
Disney has already tackled reimagining their animated favorites in a major way — Cinderella, Beauty and the Beast, and The Jungle Book have gotten their own live-action treatments in the past four years. Mulan will come back to the big screen in 2020 —Whale Rider's Niko Caro is attached to direct. It was recently announced that a Lady and the Tramp remake is headed to Disney's digital streaming service next year, so break out the spaghetti and meatballs.
Ah, the nostalgia is already tugging at our heartstrings... Aladdin is slated to hit theaters May 24, 2019.