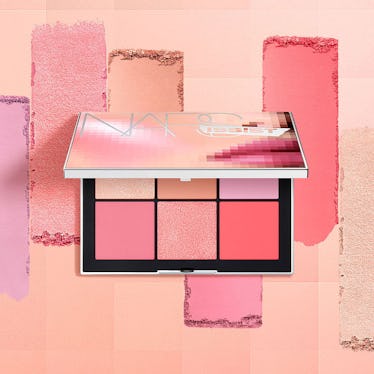 NARS Is Dropping An Exclusive Collection At Ulta Beauty & You Need To Mark Your Cal, Stat
Flushed cheeks have been on-trend since Rihanna sported draping (aka blush as contour) at the 2017 Met Gala. Since then, all our favorite brands have released blush palettes like it's nobody's business. Now NARS and Ulta are joining the ranks. When do the NARS blush palettes drop at Ulta? It'll launch just in time to get you fresh-faced and flushed this spring.
Intense blush is nothing new. Just Google some sensible Baroque and Renaissance paintings, and you'll see that an outdoorsy flush was used to convey youth and virility way back when. Nowadays, we don't use our blush as a signifier of our sex drives and fertility (thank goodness), but we do use blush to add a little color back into our cheeks. When you apply full coverage foundation and cool-toned contour without a little splash of color, your complexion might look a little pale and drab. There's a chance you might accidentally turn yourself into an extra from The Walking Dead. Though blush is often an afterthought, it's integral to any balanced makeup look. Blush brings the life and pep back in your step (and your face).
Most recently, Emma Stone was seen sporting some intense pink flush on the 2018 Oscars red carpet, so it's clear that blush is having a trend moment in a major way.
Now, blush won't have to be subservient to contour. By placing blush along the hollows of the cheek, it can become the contour. Sculpting and color in one fell swoop. it's a technique that will take several minutes out of your morning makeup routine.
If you're new to blush and you're looking to invest your money wisely, blush palettes are a great way to get a lot of bang for your buck. By buying your blushes in bulk, you can cut your costs way, way down. For example, the Benefit GALifornia Blush ($29; Sephora) is $29 for 0.17 oz of product. However, the Benefit Blush Bar Cheek Palette ($58; Sephora), which contains the GALifornia Blush, is $58 for 1.04 oz of product. Basically, you're getting 0.7 oz of product for free.
According to The Cut, NARS is getting in on the flush fun by releasing two limited-edition palettes that are first launching with Ulta.
The first, The NARSissist Wanted Cheek Palette I, includes the shades Buzzed, Unlimited, Notorious, Kingpin, Crave, and Bumpy Ride.
These shades are the epitome of springtime freshness. The floral shades of lilac and rose will help you feel bright and bubbly even if the weather is still cold AF.
The second, The NARSissist Wanted Cheek Palette II, contains Taos, PYT, Ambition, Exposed, Penthouse, and Queen.
These bright and berry hues will perfectly pop on any skin tone. Plus, that PYT shade is such a unique illuminator hue.
Both palettes include old favorites and never-before-seen blush hues. Each will be available starting Mar. 8 on Ulta's website and on the NARS website for a cool $59. Since most single NARS blushes are a sensible $30 each, you'll definitely be getting a steal by buying in bulk this time.
NARS also plans to launch a series of Wanted Power Pack Lip Kits first at Ulta as well. These kits will contain two mini liquid lipsticks: one OG hue, and one limited edition shade. The kits will come in three different color schemes: Cool Nudes, Warm Nudes, and Hot Reds. Since you're going to be blushing up your life, you might as well tag on a new lip color to perfectly pop and complement your cheeks. Unfortunately, though, you'll have to wait a bit longer for the lip kit release. These new hues won't be launching until March 18.
If you're not an online shopper and don't have an Ulta near you, don't fret friends! The blush palettes and lip kits will eventually be distributed at all other NARS retailers. You might just have to wait a little longer.
If you want to feel fresher-than-fresh for spring, look no further than the NARS NARSissist Wanted Cheek Palettes. You'll look rosy AF — and save yourself some money, too.