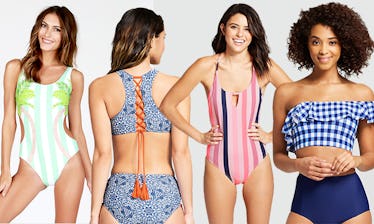 Target's Having A Huge Sale & You Can Get Bathing Suits For 50 Percent Off
Target
I love a good deal, but I don't mind spending a bit more money on designer pieces that I know I will get a ton of wear out of. However, bathing suits are the one item I refuse to shell out the big bucks for. Luckily, Target's epic selection offers sick style for a fraction of the price. When do Target's bathing suits go on sale, you ask? Gather round, because the entire swim section is buy one, get one 50 percent off right now. If this isn't the perfect time for me to load up on swimwear, I don't know what is.
There are so many reasons I can't get myself to spend hundreds of dollars on a bikini. First off, I wouldn't say my best moments are spent in a bathing suit. I can't sit comfortably in a two piece because I'm afraid everything is popping out of somewhere, and the only one piece I'd be totally excited to wear would be one that extends past my knees. That part is a bit dramatic, but who doesn't feel at least a little self conscious in a bikini?
I don't exactly jump at the opportunity to wear swimsuits, so it's safe to say that spending a good chunk of change on a single piece would be a terrible investment. If I splurge on an item, you better believe I'm going to wear it every chance I get (like, maybe even as I walk out of the store).
Secondly, I majored in fashion design and after courses in construction and managing production costs, I realized how much it really costs a manufacturer to make a bathing suit. In case you're wondering, the markup is so insane and there's not a huge difference in what you get from a super-expensive designer bikini compared to a more affordable option. While the really expensive pieces are obviously made with more luxe fabrics and the construction is sometimes better, there's just so little of it to judge (we're talking inches of fabric in a single bikini).
Luckily, with Target's BOGO 50 percent off sale, you won't have to worry about overspending on a few triangles worth of fabric. Out of excitement, I just scoured the entire site for some cute bathing suits I can wear through summer, and there are a ton of really good ones. I personally prefer a one piece (you know, for obvious reasons), but Target has a bunch of cute selections no matter what your bikini style is. Here are some of my favorites — and don't forget to calculate 50 percent off if you buy two. And that goes for tops and bottoms that are sold separately, too!
Not your basic one piece.
This one is basically the LBD of swimsuits.
A little bit sporty, a little bit sexy. Win-win.
Olive you one piece.
So much yessss.
Ruffles in the front. Ruffles in the back. Party all around.
This one is kind of Flinstones chic, but in the best way possible!
Pastels, palm trees, cutouts, stripes: All great choices.
I swear I've seen this bathing suit ata very high price point before...
This reminds me of a baseball, but like in a cute way. Paired with a baseball cap and some red cat-eye sunglasses, this one piece would be my 2018 summer anthem. Now all I need is a poolside showing of The Sandlot.
If hot pink isn't your thing, this scallop-edge one piece also comes in black, but who doesn't love hot pink?
Yassssss, color combo!
I've never met a front cutout I didn't love. This is the part of my body that has the slightest bit of definition, so it gives the illusion that I have ripped abs. The poolside snacks are usually what gives me away.
If this isn't the most darling bikini top I've seen all year — and if you buy something else, it'll only cost you $13!
What did I tell you? Aren't they so good? And considering you can snag some pieces for as low as $10, you won't have to worry about wearing the same bikini all summer long. Now, you can spend your hard-earned cash where it matters most: On poolside cocktails!