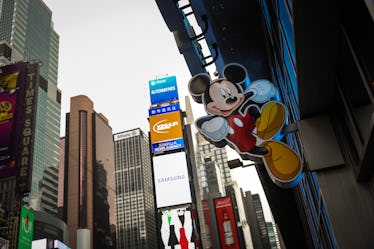 Disney Just Unveiled Some Magical Black Friday Deals, So Break Out Your Wallet
Drew Angerer/Getty Images News/Getty Images
The only thing better than Thanksgiving is the day that comes after. I'm talking about Black Friday, guys. And while there are some amazing deals to be had, Disney is offering some big holiday doorbusters that you won't want to miss. So, when do Disney's Black Friday 2018 deals start? The answer will surprise you.
This year, Disney tried something different. The company broke its Black Friday sales up into five periods. Unfortunately, the first two have already passed, but it looks like Disney actually saved the best for last. The third deal — set to end at 11:59 p.m. PT on Saturday, Nov. 17 — includes some cozy cold weather items for a stunning 20 percent off. The promotion includes sleepwear, slippers, fleeces, and outerwear items featuring your favorite Disney characters, such as Minnie Mouse, Stitch and Winnie the Pooh. For instance, Disney has got a Toy Story alien fleece for just $10. There's also a really cute pair of pink sequined slippers, decorated with fur trimming, for $12.50. To redeem the promo, simply add one eligible item to your bag, type in the promotion code "SAVEMORE" in the code box, and you can check out from there. I'm so sold, you guys.
Then, get on your marks, because more deals are right around the corner. According to the Disney store's website, more deals start on Sunday, Nov. 18 — and again on Tuesday, Nov. 20. At that point, you'll be able to fill up your shopping cart with all kinds of fun costumes, nostalgic toys, and cute gifts for your favorite little people (or yourself — no judgment here). That Buzz Lightyear action figure you've always dreamed of? Disney's got one, and it talks, for just $22. Tired of spending tens of dollars on individual dolls? Disney has a doll collection of Disney princesses, including Princess Jasmine and Snow White, for just under $110. You're not really going to find a better deal than that. If you'd rather buy them individually, though, Disney has them for sale for just $10. Either way, how can you resist any of that?
Bonus: If you add more than $75 worth of merchandise to you cart, Disney will give you free shipping. Use the code "SHIPMAGIC" for that. With deals like these, you'll be able to save big bucks while scooping up your favorite items, so filling up the space under the Christmas tree should be a breeze.
Although the company has yet to unveil everything that'll be included in its Black Friday sale, The Sun notes that customers will be able to shop some of the biggest brands, including Star Wars and Marvel. So, if you're looking for a lightsaber or other paraphernalia that features your favorite aliens, villains, and heroes, be sure to keep your wallet on standby for that as well.
Whatever you do, just don't snooze on these deals. The savings potential is real, and you never know when or if these deals will ever come back. Happy holidays, and good luck with the shopping!