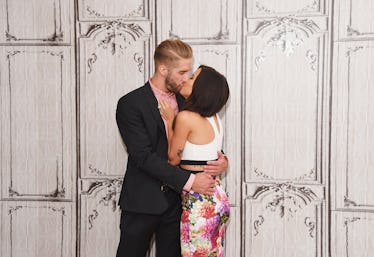 Here's What Shawn Booth & Kaitlyn Bristowe Have Said About Getting Married, & It's So Sweet
Michael Loccisano/Getty Images Entertainment/Getty Images
UPDATE: On Friday, Nov. 2, Bristowe and Booth released a joint statement to People announcing their split. "After three incredible years, we have decided to go our separate ways. This difficult decision comes after thoughtful, respectful consideration. Even though we are parting as a couple, we're very much committed to remaining friends and we will continue to support each other. Due to the nature of how we met, our relationship has always been very public, and we have enjoyed sharing it with all of you, but we ask that you respect our decision and our privacy at this time."
EARLIER: One of the most elusive couples from Bachelor nation, Shawn Booth and Kaitlyn Bristowe, are secretive for a reason. They've been pretty low-key when it comes to getting married, despite being engaged for three years. So, when are Shawn Booth and Kaitlyn Bristowe getting married? Honestly, they don't seem to be in any kind of rush, and that's totally fine.
Now, in case you aren't familiar with Bristowe and Booth, allow me to fill you in. The two met on season 11 of The Bachelorette, and when Booth proposed to Bristowe on the finale of the season, it was a quick "yes" from her. That was back in 2015, and fans have been anxiously awaiting a wedding date announcement ever since.
But Booth and Bristowe aren't revealing too much about a possible wedding date, and other than being adorable and relatable on social media, it doesn't seem like they're any closer to deciding on one. Although, to be fair, it's totally possible that Bristowe and Booth are both kind of over living their love lives in the public eye. This is pure speculation, but perhaps they're planning to elope and not tell anyone until after the fact.
With these two, anything is possible, isn't it?
The thing is, Bristowe and Booth didn't meet in a traditional setting and their proposal was anything but private. So, it makes sense that they might want to slow things down off-camera. In fact, speaking to Us Weekly back in June, Bristowe explained that they were enjoying taking things slow. "I feel like we are going backwards!" she said. "I feel like we've talked about him re-proposing because sometimes I don't even want to wear a ring anymore cause I want him to have it just so he can surprise me." Honestly, that's pretty dang sweet. Who needs a wedding date when you have an entire proposal to enjoy, all over again?
"We always talk about him proposing when I'm not expecting it, rather than when I'm on the show where I knew it was coming," Bristowe went on to explain to Us Weekly. "So yeah, I've thought about giving the ring back to Shawn so that he could use it to propose when the time comes, and we can start wedding planning when we feel that it's that time." Basically, it sounds like these two might not even tie the knot until they get engaged again.
For Booth, the idea of a more low-key wedding sounds enticing. "We go back and forth," he explained to Entertainment Tonight of their wedding plans. "Eloping sounds awesome, [a] very small wedding with our family and friends sounds great, [a] big party sounds awesome," Booth said. "We're taking our time. People always say it's crazy we're not married yet after three years, and I'm always like, 'Well, what's the average time frame when somebody meets somebody, to getting married?' We've been engaged for three years, but we've also known each other for three years."
Booth makes a great point, and even though fans just want them to tie the knot already, it's totally up to them when and how they choose to do so. Maybe they already got married, secretly, or maybe they never will walk down the aisle. Either way, it's their love story, and we're just lucky to witness it — on our feeds and in our hearts.