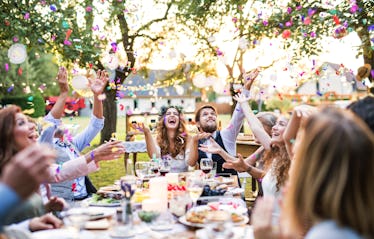 8 Brides Reveal The Part Of Their Wedding They Spent The Most On
Fall might indicate the official end of wedding season, but all that really means is that wedding planning season is upon us. And believe me, the more time you have to plan and start saving money for the big day, the better, because expenses can add up quick. When the time comes to start organizing your budget, chances are you'll wonder: What's the most expensive part of a wedding? A bride-to-be recently asked the married (or soon-to-be-married) folks on the WeddingWire forums what they spent the most on in their wedding. Honestly, their answers were a little surprising.
If you're guessing the biggest cost was the dress, flowers, or photographers, think again. The biggest wedding expenses really come down to where you get married and how generous of a host you plan to be at your reception. The memories of your special day may be priceless, but that open bar? It'll cost you. There's a good chance that when you hear how much these weddings cost (even the ones that were fairly affordable), you'll be tempted to start trimming your guest list. (Or eloping! Honestly, smart option.) Here's what 10 brides said the majority of their wedding budget went to.