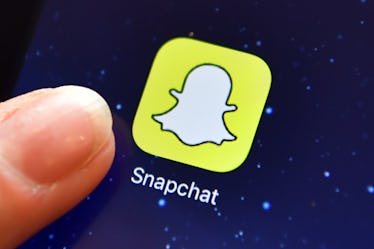 Snapchat's New "Friends" Page Will Keep You Up To Date On Your Best Buds
Carl Court/Getty Images News/Getty Images
Snapchat is looking to make its user experience more personal than ever before, so get ready for customized features that that put you and your IRL social circle first and foremost. What's the "Friends" page on Snapchat, you ask? This new capability ensures that your BFFs are within reach whenever you need them.
Beginning Nov. 29, the app rolled out its new "Friends" page, which users are able to access when they swipe left from the initial camera screen. Once you do your swiping (sound familiar?) you'll be brought to a page that features the contacts you connect with the most: your SO, your roommate, your sister — whoever they might be. Of course, this will give you access to those silly Bitmojis you share with one another, your friends' stories, and your chats. If you can't connect in the same place at the same time, at least Snapchat is bridging the gap.
The main goal is to keep the friends page social — literally. Everything is customized according to settings that work well for you, and the order in which you'll see data is:
New snaps and chats
Friends you've recently chatted with
Other friends and stories
You won't have to struggle to find that chat you and your college BFF just had because it'll all be right there. If you need some Bitmoji inspo, boom. There you have it, friend. Distance will start to feel a lot smaller.
Along with its efforts to make communication feel more personal and meaningful, Snapchat decided to revamp its "Discover" page. This way, there will be a distinction between your social interactions and your media interests. The once horizontal scroll system has been replaced by a full-screen, vertical scroll with information that is most pertinent to your likes and interests. How is that for curating your news?
If you're worried about missing out on something, don't sweat it — Snapchat still has you covered. Even though the content is catered to your liking, the Snapchat team is also curating what is promoted to users, so if there is something new that strikes your fancy, you'll definitely be in the loop. Consider the redesigned "Discover" page the best of both worlds: You have algorithms to personalize your content, yet there is also a Snap staffer behind the scenes looking out for information you need to see. It's a win-win.
This isn't the only change the app has seen. Recently, Snapchat decided to up its filter game by allowing them to recognize what's in your photographs. Let's say you're taking a selfie with your four-legged friend; now, cute bone images will appear thanks to your pup. Are you on a tropical getaway? If you're lucky enough to have escaped the cold weather, you are going to want to rub in your beach day with add-ons while your friends are wearing double layers (sorry not sorry).
To access the feature, point your camera at an object or your location's surroundings. By doing so, the new filter options will automatically generate on the carousel at the bottom of the app. If you're not seeing what I'm describing, don't fret — these features are allegedly rolling out gradually, so your roommate might have it even if you don't. Hang tight — you'll be able to rub a cute photo in her face once you're up to speed (and don't feel bad because it's her fault for skipping out on photo ops during brunch anyway).
There's certainly a lot happening with the app, but there's plenty to enjoy, so get snapping!
Check out the entire Gen Why series and other videos on Facebook and the Bustle app across Apple TV, Roku, and Amazon Fire TV.