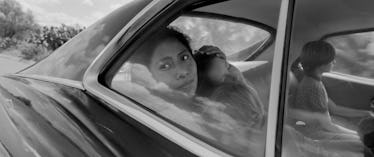 4 Facts You Should Know About Netflix's Oscar-Nominated 'Roma'
Netflix
Over the last few years, streaming services have slowly creeped their way into more and more of our lives, especially with the increased production of series and films directly from streamers. The latest streamer coup has come in the form of Roma, which has earned Netflix its very first Oscar Nomination for Best Picture. But what's Roma about? It's a small black-and-white film, but it's got a big story behind it.
Roma is actually nominated for a grand total of 10 Oscars, which makes it tied with The Favourite for the most nominations this year. Among those noms are ones for Best Director and Best Screenplay for director and writer Alfonso Cuarón. The movie is deeply personal to Cuarón, who based much of its story on his own personal experiences growing up in Mexico in the 1970s. He told IndieWire:
Ninety percent of the scenes represented in the film are scenes taken out of my memory. Sometimes directly, sometimes a bit more obliquely. It's about a moment of time that shaped me, but also a moment of time that shaped a country. It was the beginning of a long transition in Mexico.
The semi-autobiographical film tells the story of two women in 1970s Mexico as their lives intersect. Read on for four more facts about Roma.