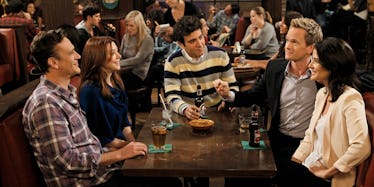 'How I Met Your Mother' Is Leaving Netflix Soon, So Start Binging ASAP
If you're one of the few remaining people who have yet to watch How I Met Your Mother, you officially have only a few more weeks to watch all 208 episodes of the show, which, in addition to just being amazing in its own way, was basically our generation's version of Friends. But that's not the only change that Netflix subscribers need to prepare for. With every month comes a slight change in the Netflix inventory we have available at our fingertips. Considering you always need to be prepared for how you might pass the time if a city-wide curfew is established (hey, if The Purge taught us anything, it's that this is not out of the question), you might want to know what's leaving Netflix in November.
How I Met Your Mother, Seasons 1-9
The grand-daddy of departures, HIMYM spawned an entirely new book of iconic catch phrases, from "Legen....wait for it...DARY!" to, "Hey, have you met Ted?"
How I Met Your Mother was an inventive way to tell a totally tired story of friends living in a city. The Netflix synopsis is as follows: "Ted's epic search for his soul mate is told largely through flashbacks, as an adult Ted recounts to his kids how he met their mother."
Not since the days of Friends and Seinfeld have we fallen so hard for a group of friends, even if the ending of the show was a little, shall we say, controversial.
How I Met Your Mother has been a Netflix staple for years, but according to Business Insider, its departure — scheduled for Nov. 13 — might be due to a Hulu deal. Business Insider reports,
Hulu has signed a major distribution deal with HIMYM producer 20th Century Fox giving it access to over 3,000 episodes of the studio's content — including all seasons of HIMYM. At the time the deal was reported, Hulu didn't claim exclusive rights to HIMYM, leaving open the (slim) possibility the show could live on both Netflix and Hulu. But that would mean Netflix abandoning its long-held philosophy of demanding exclusivity for acquired content: In general, it doesn't want old TV shows you can stream elsewhere.
In other words, you can still get your Barney Stinson fix in the future via streaming. But just to be safe, you should probably call in sick to work or school and spend the next 70 or so hours focusing your efforts on what really matters.
Twilight
The movie that spawned a thousand strangely sexual dreams about spider monkeys will be departing from our cold, lifeless hands on Nov. 1. Although Robert Pattinson and Kristen Stewart had a less than ideal ending for their real-life romance, the Twilight series, with its dark mood lighting and killer indie soundtrack, has been a staple of rainy day relaxation. Alas, after the end of this month, it shall be no more on Netflix. Somewhere in the middle of nowhere on an isolated film location for an indie film, Kristen Stewart is breathing a sigh of relief.
Hannah Montana: The Movie
It's kind of fitting that Hannah Montana is leaving the Netflix screen, given how much our girl Miley has changed since that movie first aired. Not going to lie though, this movie is one of the easiest guilty pleasures to indulge in. I mean, come on, it has everything: horses, a boy next door, and the ever so lovable Billy Ray Cyrus. Hannah Montana: The Movie was essentially the good cop to Twilight's bad cop, the happy-go-lucky movie you'd watch right after it occurred to you that you are still mortal and aren't dating someone who has technicolor skin. Say goodbye to Hannah Montana: The Movie before it leaves on Nov. 15.
Everything Else That's Leaving Netflix In November
Leaving 11/1/17: Back to the Secret Garden, Black Books: Series 1-3, Christmas with the Kranks, Get Rich or Die Tryin', Hard Candy, Hugo, Ravenous, The Brothers, The Legend of Hell House, The Matrix, The Matrix Reloaded, The Matrix Revolutions, The Newton Boys, Thomas & Friends: A Very Thomas Christmas, Thomas & Friends: Holiday Express, Thomas & Friends: Merry Winter Wish, Thomas & Friends: The Christmas Engines, Thomas & Friends: Ultimate Christmas, V for Vendetta
Leaving 11/3/17 Do I Sound Gay?
Leaving 11/5/17 Heavyweights, Sky High
Leaving 11/8/17 The Heartbreak Kid
Leaving 11/11/17 Goosebumps
Leaving 11/15/17 Jessie: Seasons 1-4, The Human Centipede: First Sequence, We Are Still Here
Leaving 11/16/17 Cristela: Seasons 1, Dream House, Joan Rivers: Don't Start With Me, The Break-Up
Leaving 11/17/17 Reggie Yates Outside Man: Volume 2, Somewhere Only We Know
Leaving 11/22/17 The Warlords
Leaving 11/25/17 Gringolandia: Seasons 1-3
Leaving 11/30/17 Hatched, Legends: Seasons 1-2, The Gambler
Everything That's Coming To Netflix In November:
Available 11/1/17 42, Casper, Chappie, Charlotte's Web (2006), Field of Dreams, Men in Black, Michael Clayton, Oculus, Scary Movie, Silent Hill, Stranger: Season 1, The Bittersweet, The Pursuit of Happyness, The Reader, The Whole Nine Yards, To Rome with Love, Under Arrest: Season 7, Undercover Grandpa, Where the Day Takes You
Available 11/2/17 All About the Money, It's Not Yet Dark, Ten Percent (aka Call My Agent!): Season 2
Available 11/3/17 Alias Grace, Eventual Salvation, The Big Family Cooking Showdown: Season 1
Available 11/4/17 Williams
Available 11/5/17 The Homesman, The Veil
Available 11/6/17 The Dinner
Available 11/7/17 Dizzy & Bop's Big Adventure: The Great Music Caper, Fate/Apocrypha: Part 1, Killing Ground, P. King Duckling: Season 1, Project Mc²: Part 6, The Journey Is the Destination
Available 11/10/17 Blazing Transfer Students: Season 1, Dinotrux Supercharged: Season 1, Glitter Force Doki Doki: Season 2, Lady Dynamite: Season 2, Mea Culpa, The Killer
Available 11/12/17 Long Time Running
Available 11/13/17 Chasing Trane: The John Coltrane Documentary, Scooby-Doo 2: Monsters Unleashed
Available 11/14/17 DeRay Davis: How To Act Black, Hickok
Available 11/15/17 Lockup: State Prisons: Collection 1
Available 11/16/17 9
Available 11/17/17 A Christmas Prince, Jim & Andy: The Great Beyond - Featuring a Very Special, Contractually Obligated Mention of Tony Clifg, Longmire: Final Season, Luna Petunia: Season 3, Marvel's The Punisher, Mudbound, Red, White, Black, Blue Odyssey, Santa Claws, Shot in the Dark: Season 1, Spirit: Riding Free: Season 3, Stretch Armstrong & the Flex Fighters: Season 1
Available 11/20/17 Piranha
Available 11/21/17 Beat Bugs: All Together Now, Brian Regan: Nunchucks and Flamethrowers, Saving Capitalism, The Case for Christ
Available 11/22/17 Cherry Pop, Godless, The Boss Baby, Tracers
Available 11/23/17 Deep, She's Gotta Have It: Season 1
Available 11/24/17 Bushwick, Cuba and the Cameraman, Frontier: Season 2, The Many Faces of Ito: Season 1, Trailer Park Boys: Out of the Park: USA: Season 1
Available 11/27/17 Broadchurch: Season 3, Darkness Rising, My Little Pony: Friendship Is Magic: Season 7 Part 2
Available 11/28/17 Glitch: Season 2, Good Morning Call: Season 2, The Queen Of Spain
Available 11/29/17 Guerra De Idolos: Season 1
Available 11/30/17 The Details, Winning