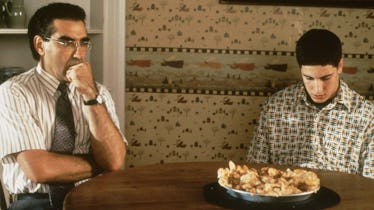 Here's Everything Leaving Netflix In April, So Starting Binging ASAP
Universal Pictures
Spring is almost here, but everyone knows that weather in April takes its sweet time to resemble anything close to spring. This means plenty of rainy days that keep us inside and drive us to watch something on Netflix. If you've had your eye on a certain movie on there, you might want to double-check the site before planning out your free day of relaxation and binge-watching. A new month brings a totally new lineup of Netflix content, so what's leaving Netflix in April?
Movies set to leave the streaming service usually disappear on the first of the month, and the majority of movies scheduled to leave in April will do so on April 1. Popular films leaving that day include American Pie, American Pie 2, Batman, The Pursuit of Happyness, Cool Runnings, and Charlie and the Chocolate Factory. I know something that centers around candy is perfect for Easter on April 1, but that family viewing of Charlie and the Chocolate Factory might have to be bumped up to before the film's Netflix departure.
Seen below, the full list of titles leaving on April 1 includes some other big blockbusters and campy favorites, so keep an eye on dates before inviting friends over for a movie night. Don't worry, you can reassure your dad that Shawshank Redemption is perpetually airing on cable and that he will survive its Netflix absence.
30 Days of Night
88 Minutes
Ace Ventura: Pet Detective
Ace Ventura: When Nature Calls
Apollo 13
Batman & Robin
Batman Forever
Batman Returns
Caddyshack
Death Sentence
Dolphin Tale
Eagles vs. Shark
John Mulaney: New in Town
Never Let Me Go
Set Up
Small Soldiers
The Dukes of Hazzard
The Men Who Stare at Goats
The Shawshank Redemption
The Whole Nine Yards
Wild Wild West
Throughout the rest of the month, several other films will also leave Netflix, but most seem to be titles that you find in those odd, obscure categories after scrolling through options for ages. Notable exceptions include the Amy Adams-helmed Leap Year, leaving on April 15, and the Hugh Jackman-Christian Bale thriller The Prestige, scheduled to leave on April 21. Avoid telling the kids in your life that Kung Fu Panda 3 leaves on April 26 for as long as possible, but reserve time for yourself to enjoy the underrated gem Begin Again, which leaves April 27.
Other titles leaving are:
Starry Eyes - April 3
The Hallow - April 5
The Nightingale - April 5
The Emperor's New Clothes - April 12
Happy Tree Friends - April 15
Son of God - April 16
Z Storm - April 17
The Exorcism of Molly Hartley - April 20
Exit through the Gift Shop - April 22
Compared to other recent months, April seems to be a relatively low-key time for Netflix departures. Thank goodness too, because I'm still not over Netflix getting rid of Lost and The Parent Trap back in January.
Luckily, plenty of the titles arriving on Netflix next month are classic movies that will make up for any hard goodbyes you may have in the next few weeks. Come April 1, Pirates of the Caribbean: Dead Man's Chest, Scarface, and Seven, among other titles, launch on the site. On the TV side of things, the 2017 Christmas special of my favorite underrated show, Call the Midwife, arrives on April 24.
With a little less than two weeks left in March, it's best to squeeze in your last-minute Netflix watches ASAP. I know I'll definitely have an ugly cry session watching The Pursuit of Happyness and soak up the tears with a viewing of Cool Runnings.