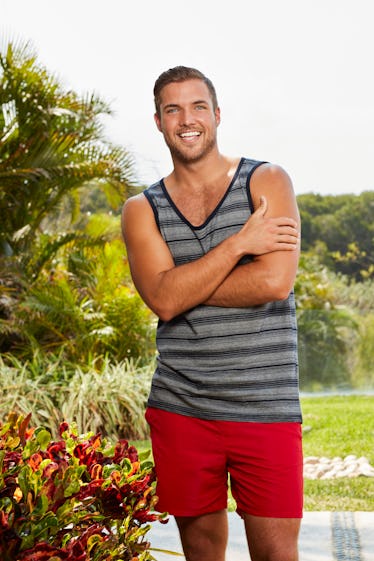 Here's Everything Bachelor Nation Should Know About Jordan's Modeling Career
ABC/Paul Hebert
"Attached to me is professionality. It's my face," Jordan declared during a heated episode of The Bachelorette's Season 14. That phrasing may sound odd and a tad confusing, but it actually does make sense. You may be wondering, what's Jordon's job? Well, the Bachelor in Paradise contestant is indeed a professional model with quite the impressive resume.
Jordan Kimball's modeling life probably comes as no surprise. He brought it up what seemed like 1,000 times during his Bachelorette stint, but he does have a legit career posing in front of the camera. Jordan, who is based out of Florida, is currently repped by Wilhelmina. According to photos on his Instagram account, the self-proclaimed "pensive gentleman" has been featured in campaigns for fashion and lifestyle brands like Quay Austalia Sunglasses, Shore, and Cremieux. He also appeared on the cover of of John Craig magazine in 2017 and lent his skills to a staged engagement shoot for an events planning company. Jordan has no shortage professional pics plastered all over his social media.
"Modeling is so much more than being ridiculously good looking. You're talking gym year-round, tan year-round, salt spray year-round. There's so much involved, it's... it's taxing," Jordan noted in the premiere.
I guess he was keeping it real about that portfolio he was talking about...
Jordan became somewhat of a villain on Season 14 of The Bachelorette due to his cocky attitude and ridiculous ongoing clash with fellow contestant David. Their 2-on-1 in Las Vegas resulted in a petty war of words that ultimately had both them packing by the end of the episode. Jordan's currently a cast member of Bachelor In Paradise Season 5, which premiered Tuesday Aug. 7, and apparently fans will get to see a different Jordan as the show progresses.
"In Paradise, you get to see the other side, the actual human being I am," he teased to the Citrus County Chronicle. "I'm not really obsessed with myself."
Jordan's Mexican adventure obviously worked in his favor, because he already revealed he met his match.
"I do find someone for me in Paradise. It ends on a very good note," he added.
There's no official confirmation on who ends up being Jordan's special BIP someone, although fans are already shipping a romance between him and none other than Krystal from Arie's season of The Bachelor. Promos hint that he hits it off with Jenna. That connection could stir up more drama with David, who also might just be interested in the same girl. Uh, oh.
Jordan's type? He revealed to Us Weekly:
Personality, I need someone that's fun. I need someone that's spontaneous, outgoing. Someone that's not afraid of being themself. Someone that's got humility. Someone that's well-spoken, that's very educated. They can be satirical, say things, be a smart ass kind of deal. I'm not really looking for someone just like me, but if you could be very similar to me and a little more sassy, then we're good to go.
Bachelor Nation can look forward to watching Jordan's journey to true love unfold and can probably expect plenty of sassy color commentary and modeling talk along the way.
Bachelor in Paradise airs Mondays and Tuesdays on ABC.