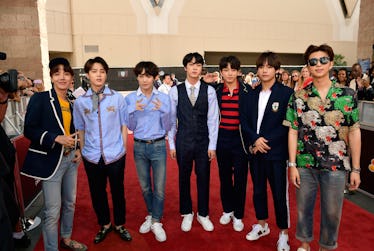 The BTS x VT Cosmetics Collection Has Everything From Adorable Lipsticks To Cute AF Compacts & More
Matt Winkelmeyer/Getty Images Entertainment/Getty Images
They sing, they dance...they make incredible beauty products? That's right, folks, BTS really are the ultimate triple-threat boy band. They've recently launched a collaboration with K-beauty brand VT Cosmetics, and the makeup boasts super cute packaging and the promise of a BTS-level flawless complexion. Wondering what's in the BTS x VT Cosmetics collection? I thought so, and let's just say you'll be pleased. The collection has a variety of priming products, base products like foundations, blushes and contour sticks, and even a few fun lippies in the mix as well, so really, it's all we could ever ask for.
Keep in mind, the brand collaborated with BTS on just one single product last year — the Collagen Pact, which dropped in October 2017 — and it was obviously a huge success, since this year they're coming back with a full BTS line. Sadly for their US fans, though, the VT Cosmetics website doesn't ship to the United States as of now, so it won't be easy to get your hands on all the new new. That doesn't mean you shouldn't stay in the loop about what's in the collection, though, since who knows if the brand will have a change of heart (and a change in shipping) while the line is still available.
VT Cosmetics, if you're reading this, please start shipping to the United States, because my makeup bag is devastated it can't contain all this adorable packaging:
The easiest way to move through the collection is in terms of formulas, starting with the liquids. There are four priming liquid products available, as well as one foundation that comes in four shades:
The Tinted Milk Cream ($22, shop.vt-cosmetics.com), is a brightening formula that can be applied alone or mixed into foundation for that luminous, signature K-Pop glow. The Tinted Shimmer Luminizer ($18, shop.vt-cosmetics.com) provides more of a lit-from-within shimmer, but still isn't super glittery or sparkly — the boys tend to keep their complexions looking as skin-like as possible, after all. To color correct, the Tinted Color Bases ($22 each, shop.vt-cosmetics.com) are available in "Mint" to cancel out redness, and "Lavender" to balance out sallowness. Top any of these off with the Tinted Foundation ($25, shop.vt-cosmetics.com), which is meant to be pressed, not blended, into the skin, and you've got a red-carpet base the band would approve of.
Keep in mind, the shade range for the foundation is super limited, so let's hope VT Cosmetics expands it if they ever do become available in the US:
After the liquids come the compacts, which consist of four base products and three blushes:
The Real Wear Cover Cushion ($28, shop.vt-cosmetics.com) contains SPF 37 and has a semi-matte finish, the Real Wear Fixing Cushion ($28, shop.vt-cosmetics.com) contains SPF 50 and is more matte and totally transfer-proof, the Real Wear Water Cushion ($28, shop.vt-cosmetics.com) contains SPF 50 and is super glowy and dewy, and the Real Wear Satin Cushion ($28, shop.vt-cosmetics.com) contains SPF 37 and has a satin-like finish, as the name implies. Also in a cushion compact is the Cheek Cushion ($19, shop.vt-cosmetics.com), which comes in three shades: "RaspBerry," "Papaya," and "Fig."
The last of the face product formulas is the cream stick, and there are quite a few fun products in this section. To prime and blur pores, there's the Fit On Stick Primer ($16, shop.vt-cosmetics.com), and to conceal dark under eye circles, turn to the red-toned Under Cover Fit On Stick ($16, shop.vt.cosmetics.com). To contour and highlight, use the Fit On Stick Shading ($16, shop.vt-cosmetics.com) to create shadows along the jawline and cheekbones, and finish with the Fit On Stick Highlighter ($16, shop.vt-cosmetics.com) for a pearlescent touch.
Now that we've covered the three main formulas, we can talk about all the cute miscellaneous products. In particular, the Eye Shadow Palette ($32, shop.vt-cosmetics.com) definitely wins best packaging overall, thanks to its circular shape that kinda gives me CD vibes.
The palette comes in two color options, neutral "Mood Brown" and icy, cool-toned "Mood Indigo":
Each features one matte shade and six shimmers — almost as if each boy picked one shade per palette:
And before we finish off with lip products, there's one more eye-related item, but this one's all about brows. The Air Pitatu Brow ($14 each, shop.vt-cosmetics.com) comes in four shades and features a unique applicator to both shape and style the eyebrows. A droplet-shaped brush tip allows the user to draw the desired brow shape, and then a spoolie coated with product can be brushed through hairs to give off a natural finish.
And now, onto the oh-so-sweet lip products:
There are two different lip formulas within this collection, the first being the Cream Lip Lacquer ($15, shop.vt-cosmetics.com) and the second being the Lippie Stick ($13, shop.vt-cosmetics.com). The Cream Lip Lacquer is a water-resistant formula that comes in four shades: "Nude Brick," "Vanilla Pink," "Mellow Coral," and "Syrup Red." The Lippie Stick is a much shinier, glossier product, packaged in adorable pill-shaped bullets. For this product, there are eight shades: "Brown Dawn," "Sturdy Coral," "Mood Rose," "Burnt Pink," "Deep Orange," "Red Pool," "Burgundy Scene," and "Struck Pink." I'm loving the variety, and each shade can be applied all over for an intense, statement look, or placed just at the center of the lips and blended out for a more post-popsicle finish.
This collection is huge, and the packaging as well as the products themselves look so major. I can already picture myself getting ready with this makeup while having a very embarrassing BTS jam sesh, and TBH, I'm not sorry about it at all.