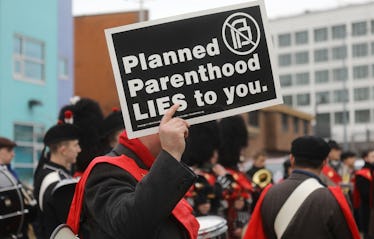 This State Just Passed The Nation's Strictest Abortion Law, & Here's What To Know
Mario Tama/Getty Images News/Getty Images
The conservative movement in American politics has never been this visible, and individual states are taking steps to push the conservative agenda into law. And one state in particular just made a seriously bold move in terms of reproductive rights. On March 19, Mississippi's governor signed a new abortion bill — and it's now the strictest one in the country.
On Monday, Mississippi Governor Phil Bryant signed the new abortion law titled House Bill 1510, which bans abortion after 15 weeks of gestation and is effective immediately. The passing of this law officially makes Mississippi the strictest state when it comes to allowing a women the right to an abortion. The state's previous law made it illegal to seek an abortion after 20 weeks of gestation, a deadline which is currently enforced in 17 other states. But cutting an entire five weeks makes Mississippi the only state to have such strict abortion restrictions.
"I am committed to making Mississippi the safest place in America for an unborn child, and this bill will help us achieve that goal," Bryant said in a tweet announcing the move.
The bill does have some exceptions in some special circumstances, including if the woman's life or a "major bodily function" is at risk due to the pregnancy, or if the unborn child has a health problem that indicates it wouldn't survive outside the womb. But the list of exceptions does not include allowing abortions in the case of rape or incest, according to The Hill. A similar law has also been introduced in Louisiana that would also ban abortions after 15 weeks, but that has not yet been passed.
Critics of this new law say that it was passed specifically to target Mississippi's last remaining abortion clinic, according to Reuters. The Jackson Women's Health Organization provides abortions for up to 16 weeks after conception, so reproductive rights advocates say that this new law is basically undercutting that clinic's ability to help women. In a statement shared with Elite Daily, Willie Parker, the Board Chair of Physicians for Reproductive Health, said
There are only a few clinics left to serve patients who need abortion care even as we speak, and with HB 1510 targeting the lone remaining clinic in Mississippi, a scarce health service will become even more so.
According to Reuters, the Center for Reproductive Rights has already filed a suit in U.S. District Court on behalf of the Jackson Women's Health Organization clinic in an attempt to block the law. The advocacy group says that the law violates Supreme Court precedent that a state can't ban abortion before the unborn baby can survive outside the womb.
And they're not the only group that's vocalizing their concerns about this new bill. NARAL Pro-Choice America also called out the new law for its effect on women and families. National Communications Director Kaylie Hanson Long said in a statement,
There is no doubt that this unconstitutional abortion ban will harm Mississippi women and families. The ban is clearly an attempt to effectively bring the state one step closer to outlawing abortion entirely. We know that when abortion access is restricted so severely, the number of abortions does not go down — the number of deaths and injuries to women goes up. Governor Bryant should be ashamed of himself.
This isn't the first time that laws of this nature were passed in a state and subsequently revoked by the Supreme Court. In 2016 the Court denied to uphold an Arkansas law that banned abortions after 12 weeks, as well as a North Dakota law that denied abortions after just six weeks gestation.
Even if you don't live in Mississippi, this new law is still cause for concern. How the U.S. courts — including the conservative-leaning Supreme Court — handle this could create precedent for other states to follow suit. I'll definitely be keeping a close eye on the developments regarding this case.