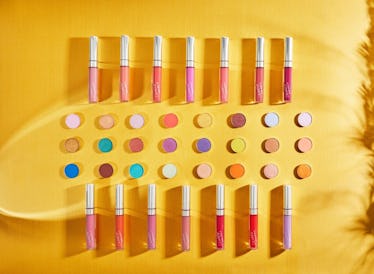 ColourPop's Festival Makeup Drop Will Have You Ready To Dance In The Desert For $4
@ColourPop
Festival season is upon us, and even if you don't have a coveted ticket to the shows, you can still join in on the fun. In between lineup releases, ColourPop stole some of the thunder with their newest collection announcement. What's In ColourPop's Festival Collection? Festival-goers are there for the tunes, but nothing beats the experimental beauty looks off stage. This festival season, ColourPop has everything handled.
The ColourPop reign just won't let up, and I'm so here for it. A couple of months ago, fans took to Instagram to share their need for more colorful makeup collections. After a winter season filled with nude shades, the team is responding in full force with a collection for all of their color-loving customers. The line will launch at 10 a.m. PT on April 6, and will feature all of the items you need to create festival-ready looks... or at the very least tutorial-worthy cut creases.
Ever since the brand partnered with Ulta, ColourPop has been releasing collections faster than the Kardashians break the internet. As a loyal and faithful fan, I'm more than willing to throw my money at this brand. The festival collection is bound to be another hit because it's the epitome of spring.
The collection will feature 24 new Pressed Shadows in vibrant shades (that will make an extra statement), as well as warm neutrals to bring your Indio sun looks together. Fourteen new Ultra Satin Lips in trendy pastels and bold pops of color are also included in the drop.
The ColourPop Pressed Shadows ($4, ColourPop) will sell individually, and in a compact for $5. The finish of these shadows is beyond major. They're velvety soft and super pigmented as well. The eyeshadow palettes come in a variety of colors, ranging from ocean blue and forest green to shimmering rose and metallic neutrals.
The finish of ColourPop Cosmetic's Ultra Satin Lips ($7, ColourPop) is a satin matte finish that's packed with pigment. This type of formula is ideal whether you're dancing with your friends in the sun or lounging by the pool with a Mai Thai. Also, these colors are great as a standalone product.
There's nothing worse than going to the beach and having to tote around your whole makeup caboodle. The line stays in the pink, purple, and red color scheme. After a long day at the pool, throw one of these Satin Lips on with a large pair of sunglasses. At the very least, you need to stop into Ulta to pick up a few ColourPop products.
To keep up with the ever-changing makeup industry, and to stay on top of demand ColourPop signed a deal with Ulta to carry products in store. According to a press release from ColourPop's Co-Founder and President Laura Nelson, providing an in store experience for consumers was a high priority.
"We're thrilled to enter Ulta Beauty doors and bring the ColourPop experience to a new set of beauty lovers. As ColourPop continues to expand and branch out into new product categories, specifically in the complexion space, we wanted to provide an in-store experience that allows consumers to experiment and play in real life with our portfolio of cult favorite products for the first time."
In the meantime, I recommend that you stock up on ColourPop's No Filter Concealer ($6, ColourPop). When the No Filter Concealer first launched in 2017, it sold out immediately, but there were only 15 colors. Since the concealer was such a hit, the brand decided to expand their range. The creamy, pigmented, and blendable formula now includes a few new fair shades and many more options on the medium and darker side of the line. The lightweight consistency is creaseproof and has a matte finish, so you won't need a filter on your Instagram photos.
Unfortunately, I won't be able to dance in the desert watching Queen Bey kill it at Coachella, but I will for sure be front row watching SZA with an ethereal makeup look courtesy of ColourPop.