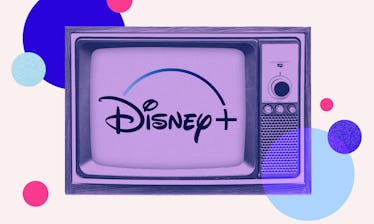 Yass, A Classic Hilary Duff Movie Is Coming To Disney+ This Month
Sorapong Chaipanya/EyeEm/Getty.
With the premiere of WandaVision, Disney+'s second year is off to a spectacular start. But the House of Mouse is only just getting started in kicking off 2021. February may be the shortest month, but it's long on premieres for the streaming service. So, what's coming to Disney+ in February 2021? It's a mix of older hit movies and famous TV series all lined up for fans to enjoy.
For fans who were disappointed by the cancelation of the Lizzie McGuire revival, Disney+ has got your back. The streamer brings not one but two of Hillary Duff's classic performances to streaming with the early-aughts adaptation of Cheaper By The Dozen and the sequel, Cheaper By The Dozen 2. With talks underway of a new version led by Gabrielle Union, it seems like it's time to bring back these classic films for a new generation to enjoy.
Disney+'s other major nostalgia play is aimed at the older millennial crowd with the late '70s series The Muppet Show. The music rights have held up a proper release of the series for decades. (It's also most likely the reason The Muppet Show wasn't on Disney+ from the get-go.) But fans of the fur and felt will finally get to play the music and light the lights as all five seasons will reach Disney+ on Feb. 19.
Check out the trailer for the highlight rundown of new releases:
Here's everything premiering in February on Disney+:
Tuesday, Feb. 2
Disney My Music Story: Yoshiki
Disney Upside-Down Magic
Wicked Tuna: Outer Banks (Season 7)
Friday, Feb. 5
Friday, Feb. 12
Inside Pixar: Season 1, Part 2 "Portraits"
WandaVision: Episode 6
Life Below Zero: The Next Generation (Season 1)
Marvel Battleworld: Mystery of the Thanostones (Season 1)
Marvel's Behind the Mask
Friday, Feb. 19
WandaVision: Episode 7
The Book of Life
Cheaper by the Dozen
Cheaper by the Dozen 2
Flora & Ulysses
The Muppet Show (Seasons 1-5)
Friday, Feb. 26
Secrets of Sulphur Springs: Season 1, Episodes 1-5
WandaVision: Episode 8
Car Sos (Season 8)
Disney Channel Games 2008 (Season 1)
Disney Illuminations Firework Show Disneyland Paris
Disney Pair of Kings (Seasons 1-3)
Disney Roll it Back (Season 1)
Disney's American Dragon: Jake Long (Seasons 1-2)
Mickey Go Local (Season 1)
Myth: A Frozen Tale
Okavango: River of Dreams
Shanghai Disney Resort Grand Opening Gala