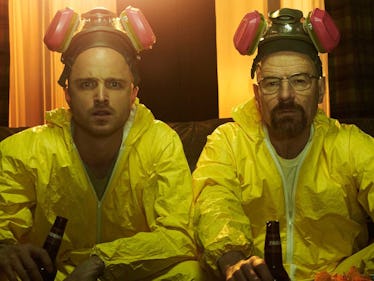 A 'Breaking Bad' Movie Is Officially Happening, Here's What Fans Should Know
AMC
ICYMI, we finally have a reason to rock a yellow hazmat suit at a costume party again. Breaking Bad creator Vince Gilligan is reportedly working on a two-hour movie featuring a new story in the hit series's franchise, but there's more mystery than fact tied to the news. A lot is unclear about what the project actually entails, so what will the Breaking Bad movie be about? Here's what we know so far.
On Nov. 6, sources told The Hollywood Reporter that Gilligan was working on a Breaking Bad-related movie. Although NBC News reports that the project will begin filming in New Mexico in mid-November, fans still aren't sure if the movie is meant for a theatrical release or a televised airing. We also don't know if Gilligan's work will be a prequel to the original 2008 series, as the ongoing spinoff series Better Call Saul is, or provide a followup chapter to leading man Walter White's story. While the sources providing these foggy details have assured that the story is set in the show's existing world, whether Breaking Bad actors such as Bryan Cranston or Aaron Paul will appear is totally a mystery. So is there anything the public actually does know about this movie?
Well, it's apparently been in the works for awhile under the title Greenbrier, which may or may not be a possible name for the final piece. After beginning production this month, the film is expected to wrap in early February. According to the Albuquerque Journal, Greenbrier is registered for production in the Albuquerque region, where the Breaking Bad team also filmed. The newspaper also included the project's logline, saying it "tracks the escape of a kidnapped man and his quest for freedom."
Breaking Bad's 2013 series finale resulted with the death of antihero Walter White (Cranston), who was introduced as a terminally ill chemistry teacher at the start of the series. He begins to make and sell meth with former student Jesse Pinkman (Paul) to solidify his family's financial future once he has succumbed to his inoperable cancer. While Jesse seemingly escaped to freedom in the series finale, Gilligan hinted afterwards that authorities could have easily tracked him down, meaning a dire future was in store for Jesse.
If Greenbrier is some sort of sequel including old characters, there's definitely a chance of Jesse reappearing. The finale's hints at his future don't quite align with the possibility of him being kidnapped, but the logline's clues about a journey toward freedom fit both the show's canon and Gilligan's ideas about Jesse's likeliest path.
Seeing as Gilligan and his colleagues have already delved into the pre-Breaking Bad world on Better Call Saul, exploring more of that in a movie could be overkill. Should we be expecting a Lost-esque story crossing all of space and time? Please fill us in ASAP, Gilligan.
The project is the creator's first since he signed a three-year deal with Sony Pictures Television in July. Having celebrated Breaking Bad's 10th anniversary earlier this year, the cast's recent reunions sparked plenty of conversation about them stepping back in their legendary characters' shoes soon. Paul spoke at Comic-Con about wanting to do Jesse Pinkman's own show, while Gilligan has expressed interest in wanting both Paul and Cranston to appear on Better Call Saul. Does he have this pairing in store for Greenbrier?
We have to wait and see if his dreams for their partnership come true soon, but at this rate, I could use any kind of Breaking Bad movie scoop. Here's to searching the internet until more news breaks!