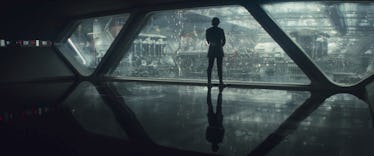 Here's Everything We Can Expect To See In 'Star Wars Episode IX'
Lucasfilm
With Star Wars: The Last Jedi debuting with $220 million on the first weekend, it seems like most fans made it out to see the show. Now that they've seen Episode VIII, that only leaves questions upon questions about the next installment. What will Star Wars: Episode IX be about? What do we know about it that's confirmed? What's just rumor so far? Do we have any idea what the title might be?
On that last point, if Episode IX follows the exact pattern of Episodes VII and VIII, the title won't be revealed until January 2019. Until then, like most movies, the film will have what is known as a "working title." The Force Awakens working title was "Foodles," a reference to J.J. Abrams' company. The Last Jedi's was "Space Bear" and Rogue One's was "Los Alamos." As you can tell from these, working titles are often inside jokes. (The Avengers, for instance was entitled "Group Hug," Solo: A Star Wars Story was "Red Cup.") Episode IX is currently being referred to as "Black Diamond."
What does it mean? Like "Foodles," this is a reference to the company working on it, Carbonado Industries. Carbonado is the Portuguese word for "black diamond."
Leia & Luke
So, what about the plot? Obviously, if Episode IX was following the set pattern with Han Solo dying in Episode VII and Luke in Episode VIII, Leia was supposed to go in emotional fashion in Episode IX. This will be changed with Carrie Fisher's passing.
How? We don't know yet, but Lucasfilm has sworn she will not be digitally inserted like Peter Cushing's Grand Moff Tarkin was in Rogue One.
Meanwhile, Mark Hamill said even before the latest film came out that he is contracted to appear in Episode IX. Most fans considered this proof he would survive the second installment. But with the character's passing at the end of The Last Jedi, we must now assume he will be a Force Ghost.
Time For The Skywalkers To End
Even if Fisher had survived to film Episode IX, we can be pretty sure that Leia would pass away in the final film. We also assume that Kylo Ren will die, as he is now the franchise's only surviving Big Bad. Obviously, there is a showdown coming between the Dark (Kylo) and the Light (Rey). After 40 years and nine films, we assume there will be at least a semi happy ending, where Rey beats Kylo in some fashion. That would take down the only living Skywalker in the galaxy, especially with Rey's parentage revealing her to be not part of the clan.
George Lucas said his Skywalker saga was never meant to go beyond nine films. Taking down the last of the Skywalkers and ending their line once and for all in the last film makes sense. But how, and what the catch might be, is still unknown.
When Does Filming Start?
With the firing of Colin Trevorrow last September, the entire timeline for the final film got pushed back. Originally, it was supposed to start filming in February of this coming year. But replacement director Abrams' schedule is such that pre-production will begin in February 2018, on a script that's still under construction at this juncture.
Proper filming will begin in June 2018, and is expected to take the usual half a year, plus reshooting time, followed by post production in 2019.
When Does Episode IX Arrive?
Like filming, the release date for Episode IX has also fallen back. It was originally slated for May 24, 2019.
The original planned switch to May releases for Episode IX was going to be preceded by Solo: A Star Wars Story arriving in May of next year. Despite the problems that film had, it is still set to arrive on the original schedule, only five months from now: May 25, 2018. (That means it's now coming out before filming even starts on Episode IX.)
Then, it will be a 19-month wait until the final Star Wars installment in the long-running saga. Star Wars: Episode IX will arrive in theaters once again at Christmas, on Dec. 20, 2019.