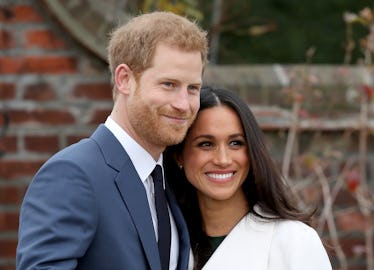 What Will Meghan Markle's Title Be In The Royal Family? Here's What We Know
Chris Jackson/Getty Images Entertainment/Getty Images
Prince Harry officially popped the question to Meghan Markle, and yes, we are all seriously swooning over this real life fairy tale. We want to know every single detail because, let's be real here — The Royal Family is beyond captivating. So, among the endless amount of questions, you may find yourself wondering, what will Meghan Markle's title be in the royal family once she and Prince Harry tie the knot?
Clarence House released a statement about the couple's engagement this morning on Monday, Nov. 27, which read,
His Royal Highness The Prince of Wales is delighted to announce the engagement of Prince Harry to Ms. Meghan Markle. The wedding will take place in Spring 2018. Further details about the wedding day will be announced in due course. His Royal Highness and Ms. Markle became engaged in London earlier this month. Prince Harry has informed Her Majesty The Queen and other close members of his family. Prince Harry has also sought and received the blessing of Ms. Markle's parents. The couple will live in Nottingham Cottage at Kensington Palace.
We know the wedding will take place in "Spring 2018," but when it comes to the tiers and hierarchy of royalty, most of us are super clueless to how all of this works (especially as far as titles are concerned). Shoot, it's still super fascinating that people outside of storybooks are referred to as Princesses and Princes, am I right? And then to find out that a prince proposed to someone not necessarily from a family lineage with royalty in it? We are swooning (and happy crying) so hard right now!
OK folks, let's try to break down the title situation in a way that we can all understand — you know, the kind of way that usually leaves us more confused than before, but we feel like we learned something in the end. In order to semi-understand what this marriage will produce, name-wise, we have to take a glance at the family at hand.
Prince Harry and his older brother, Prince William (aka, the Duke of Cambridge), are the sons of the late Princess Diana. Princess Diana was married to Charles, Prince of Wales. Now, when Kate Middleton married Prince William, she was crowned with almost a totally different name — Catherine, Duchess of Cambridge. Do you get it? Duke and Duchess.
According to The Telegraph, Meghan's title will be Her Royal Highness, the Duchess of Sussex. It surely has a ring to it. As much as we would be completely OK with referring to her as Princess Meghan, it's a totally different process in the royalty world. Names aren't simply names — they carry bloodlines and are engraved with a standard of nobility. It seriously takes the whole "what is in a name" to an entire new level.
Either way, it's interesting to note how Prince Harry and Prince William both sought women who weren't of royalty. I mean, is there a thirst trap perfume we don't know about being sold somewhere that helps you cuff a prince? If so, they better sell that stuff in bulk.
Of course, Meghan was certainly in her own spotlight, just without a royal crown. She's a well-known actress, and has probably already received a taste of what it's like being in the public eye. Fame and royalty sort of go hand in hand in that way.
For many of us, Prince Harry and Meghan Markle tying the knot is exactly what fairy tales embody. The whole two people from different backgrounds crossing paths and eloping is your classic storybook-type scenario, and we wish this couple all the best.
For now, we are anxiously awaiting every detail and analysis that has to do with this couple and what their future is going to be like together. The ring, the titles, and plans are keeping us on the edge of our seats. Congrats to Prince Harry and Meghan Markle, and we look forward to obsessively swooning over your partnership until the end of time.