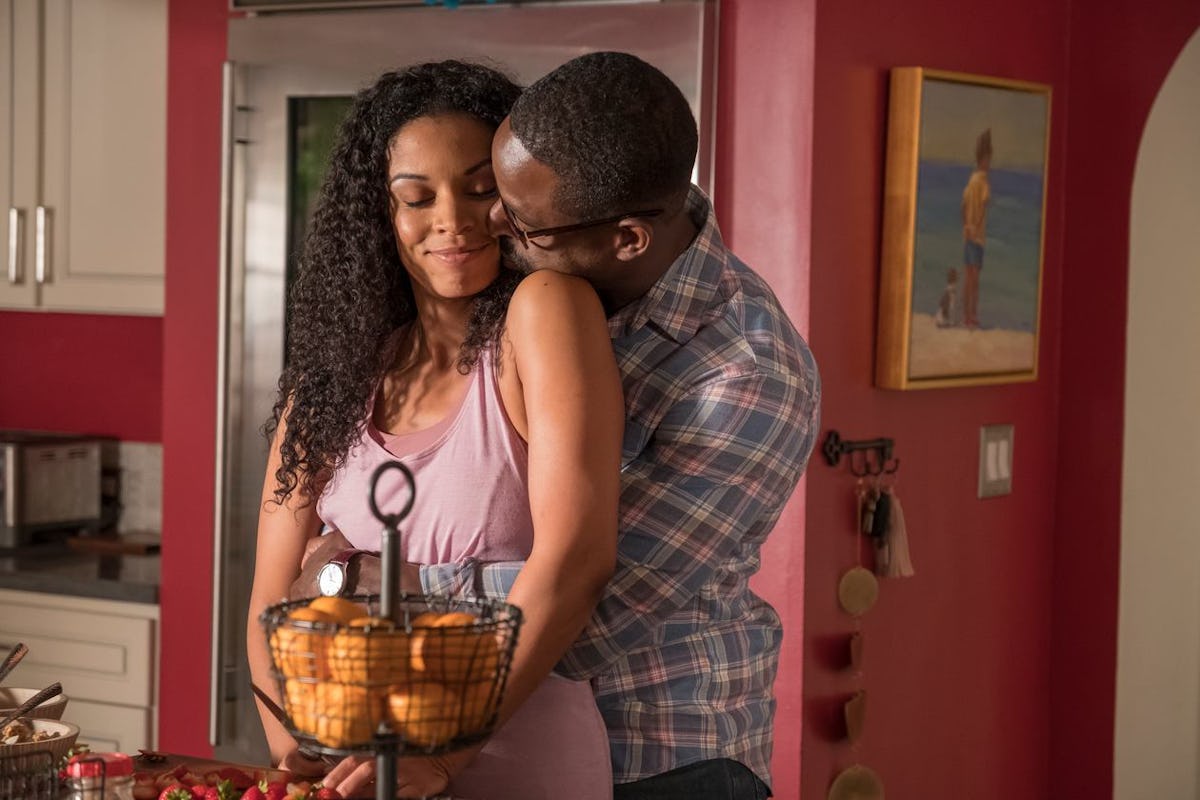 This Week's 'This Is Us' Introduces New, Intense Issues Between Randall & Beth
Ron Batzdorff/NBC
If you keep up with the cast and crew's clues of what's to come in Season 3 of This Is Us, you've been anticipating the bumpy patch that Randall and Beth are expected to face this year. The season's third episode, "Katie Girls," finally fueled the circumstances that seem to lead to the couple's rocky stage, so what will happen with Randall and Beth on This Is Us? The two's clashing career goals emerged in Oct. 9's "Katie Girls."
While Randall has been preoccupied with renovating the rec center in William's old neighborhood, Beth has spent the early days of Season 3 finalizing a work proposal. Her dedication to the project and Randall's urge to improve things for William's beloved friend Chichi didn't necessarily cause a strife in their relationship, but as the Oct. 9 episode began, it was clear that these two were lacking in quality one-on-one time. Their emotional distance continued when Randall flew across the country on a whim to support Kate during her IVF surgery. Meanwhile, Beth was unexpectedly fired from her job while Chichi's daughter Skye was attacked near the rec center, prompting Randall to consider running against the local councilman.
Although Beth has her own Pearson Spouse Support text chain with Miguel and Toby, the show turned to a flashback with William to provide insight into her most complicated struggles with marriage. Set right after Randall's panic attack in Season 1, the scene included Beth's confession that she wasn't sure she could handle Randall's anxiety again. Comparing her to the bass in a band, William asked her to promise that when it was her turn to be a soloist, she wouldn't turn to her nervous habit of fiddling with her wedding ring and trying to remind herself why she got married.
After Randall brought up the possibility of pursuing politics, the episode ended with Beth twisting her ring and admitting she was fired. While the couple are in agreement about adopting Deja, their conflicting professional states seem to be the cause of the marriage troubles the This Is Us team have teased. However, whatever conflict starts likely won't be detrimental to the family. Speaking to TVLine soon after the season premiere on Sept. 25, Sterling K. Brown said:
There'll be some difficulty between [Randall and Beth] regarding their marriage. Randall makes some choices that his wife supports but not necessarily endorses, with regard to a career opportunity. Being the dutiful person she is, she finds herself not being able to anymore, and there's a bit of a break in the union we're accustomed to seeing... This is a marriage that works, so they will come back together.
This wouldn't be the first time jobs got in the way of Pearson marriages. As seen in Season 1, Rebecca's pursuit of singing caused a fray in her relationship with Jack in the '90s, leading to their fairly brief separation. While the latest episode's 1972 timeline also elaborated on Rebecca's dreams not aligning with a traditional family lifestyle, it also hinted at more similarities between Rebecca and Beth that we might not have noticed before. A young Rebecca didn't want to be a housewife waiting for her husband to come home every day, while William's observation of Beth's wedding ring tic suggested that her younger self was hesitant about getting married to the traditional Randall.
We have to wait and see how Randall reacts to Beth's firing, but I have my fingers crossed for the season to explore the couple's backstory and fill in the deeper specifics of their relationship. Season 3 of This Is Us continues on Tuesday, Oct. 16, at 9 p.m. ET on NBC.