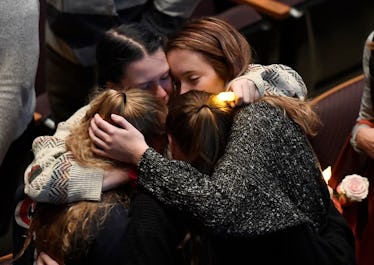 There's Hope For Gun Control After The 2018 Midterms
Kevork Djansezian/Getty Images News/Getty Images
It's become a tragically familiar story in America: A mass shooting has left a dozen people dead and sent the country into mourning, again. Late on Wednesday, Nov. 7, a shooter opened fire in a bar in Thousand Oaks, California, reportedly killing 12 people. It's a terrible tragedy, and given that the news comes right after the midterm elections with newly elected politicians entering the arena, it begs the question of what will happen to gun control after the 2018 midterms. So far, the path to gun control reform has been rocky, but maybe that can change with new representatives.
The shooting in Thousand Oaks is another reminder that even though the country was distracted by the midterms, now it's time to focus on the work our newly elected officials will do. When it comes to the future of gun control following the outcome of the Nov. 6 elections, there's some good news and some bad news. The Democrats managed to take the House, and with that, there are more than a few advocates of gun reform entering Congress. Among them is Lucy McBath, who defeated Republican incumbent Karen Handel for Georgia's 6th District House seat. McBath's campaign platform leading up to her win was heavily focused on gun control, according to the Huffington Post. McBath has been an avid supporter of gun policy reform since her 17-year-old son Jordan Davis was shot and killed in a Florida gas station back in 2012 by a man who was complaining about the loud music.
In fact, there are a number of newly-minted politicians who are ready to take action on gun policy reform. Per a Nov. 7 press release from Everytown for Gun Safety, at least 80 percent out of the 110 candidates supported by the organization won their races.
Joining McBath in the new Democratic-majority House are a few other gun control advocates. Jason Crow, a former Army Ranger and lawyer who also campaigned on a platform of gun reform, defeated Republican incumbent Mike Coffman for Colorado's 6th District, according to The New York Times. And around the country, more than a dozen volunteers and activists with Everytown for Gun Safety's grassroots arm Moms Demand Action saw victory, according to the organization, winning races for state legislatures in New Hampshire, North Carolina, Arizona, and more.
Shannon Watts, the founder of Moms Demand Action, tells Elite Daily by phone that the election was an "amazing night" for the organization. "We're really hopeful now that the House is a gun-sense majority that we can pass the laws we've been looking at," she says, citing laws regarding the background check loophole, red flag laws, and the boyfriend loophole. She specifically mentions the Manchin-Toomey bill, which failed back after 2012's Sandy Hook Elementary shooting. "We're really hopeful that we can get some work done and that the Senate will read the tea leaves from the election night outcomes and realize they need to be on the right side of this issue because they don't want to be on record as having voted against the will of constituents," she says.
McBath's and Crow's victories weren't the only wins for gun control. In Washington state, a ballot initiative on gun control which included restricting access to assault rifles and expanded background checks passed by a wide margin.
But it's not all good news for gun control. While the House is swinging towards gun reform, the Senate isn't seeing the same movement — in Indiana, Missouri, and Tennessee, National Rifle Association (NRA) supported candidates won seats. Marsha Blackburn, who won the Senate seat in Tennessee, responded to the Thousand Oaks shooting by calling to protect the Second Amendment as well as citizens. "What we do is say, how do we make certain that we protect the Second Amendment and protect our citizens?" she told Fox News.
And Florida, the site of the school shooting at Marjory Stoneman Douglas High School that killed 17 people and sparked the March For Our Lives movement, is on track to elect Republican Rick Scott to the U.S. Senate — although the race is close enough that his opponent, Democratic incumbent Bill Nelson called for a recount. Scott is a bit of a mixed bag on gun policy — in an Oct. 2 debate, he asserted his support for gun rights, and previously had an A rating from the NRA, per the Sun Sentinel (it's since been downgraded to a C). On the other hand, he signed Senate Bill 7026, also known as the Marjory Stoneman Douglas High School Public Safety Act, into law — it's the state's first bit of gun-reform legislation which tightens up gun control, like raising the age to purchase a firearm from 18 to 21. However, the bill also contains a provision that would allow for some teachers to be armed, according to CNN.
With a Democratic House and a Republican Senate the future of gun reform is definitely murky at best, but it's clear the country saw both wins and losses for gun control.