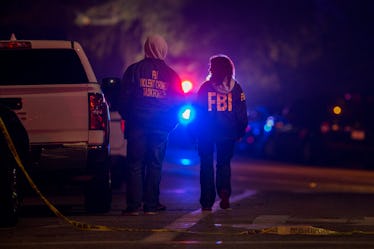 Here's How You Can Do Your Part To Help The Victims Of The Shooting In California
David McNew/Getty Images News/Getty Images
On the evening of Wednesday, Nov. 7, a gunman opened fire on people inside of a crowded bar in Southern California, leaving at least 12 people dead, according to NBC News. The incident unfolded at the Borderline Bar and Grill in Thousand Oaks, California where reports from NBC News say "hundreds of people" were gathered for a "college country night." It's hard to imagine how friends and family of the victims are handling the sudden and tragic news right now. If your heart is in pieces over the news, you can get involved. Here's how to help victims of the Thousand Oaks shooting because every little bit makes a difference.
In mass shooting situations, one of the most helpful things you can do is give blood. Hospitals and blood banks are always in need of extra blood to help. In the aftermath of the Borderline Bar and Grill shooting on Nov. 7, witnesses said there was reportedly "blood everywhere," per NBC News. If you live in the area, you can donate blood to the American Red Cross Blood Donation Center in Woodland Hills, California.
If you don't live nearby and still want to help out, there are countless ways to get involved. Aside from blood donations, you can make a monetary contribution directly to the victims of the shooting. As of publication on Thursday, Nov. 8, an official GoFundMe account had not been set up for public view. The situation is still very fluid, so check back later for updates and links to the correct fundraisers that will benefit the victims of this horrible tragedy. You can also keep checking the GoFundMe Twitter account.
The online fundraising website typically tweets out links to the official GoFundMe accounts involving major news events. These fundraisers typically take time to set up and require a bit of coordination. Whether you have $1 or $100, every amount helps the victims and their families with rehabilitation costs, funeral costs, and other expenses related to the shooting. There is also a hotline set up for reunifications following the tragedy, per a tweet.
Pepperdine University shared on Twitter that some of the school's students were a the bar when the shooting happened. Those in need of information can use the school's emergency page as a resource.
The shooting took place at Borderline Bar and Grill, located roughly 18 miles from nearby Pepperdine University. On Twitter, university officials said that "the University has determined that multiple Pepperdine students were on site at Borderline Bar and Grill in Thousand Oaks. At this time, the University is working to identify and provide support to those students." Elite Daily reached out to Pepperdine University for further comment on the shooting but did not hear back at the time of publication.
In times of distress, communities come together. If you are looking for another way to help, attend a vigil or a gathering to show your support. Pepperdine University announced that the campus will host a prayer service for the college community at 12 p.m. PT at Smothers Theatre, according to a post on the Pepperdine University emergency response page. At the time of publication, no other vigils or gatherings were announced as of yet. You can likely expect that to change, though. People look to one another for understanding and support when an event like this plays out in their local community. It can be hard to understand such a senseless act. Leaning on others for support and sharing your grief can help you and others who are hurting through this tragic time.
As the day goes on, keep an eye out for more vigils, gatherings, calls for blood, and ways to donate to those impacted by this tragedy.