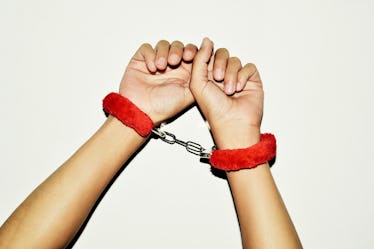 Here's The Hottest Thing That Turns You On Most, Based On Your Zodiac Sign
We all have things that secretly turn us on — things that are outside the vanilla and stereotypically sexy behaviors that really arouse our imaginations, or just arouse us in general. I'm talking about the kinks that get you hot and bothered at the mere thought of them, and the hot buttons that always get you in the mood, instantly. While everyone's personal sexual preferences are a little different, you can get hints about what turns you on based on your zodiac sign. This is good to know because it can be a great tool to help you explore your sexuality more fully, and offer some inspiration on how to really rock your partner's world — that is, if you're up for exploring their secret desires, too.
Some astrological kinks are more obvious, like proud Leo getting off on all the attention and exhibition, or fiery Scorpio being ready and willing to crack the whip in bed (both figuratively and literally). But there are a few surprises here, too (I'm looking at you Libra, you closet freak, you). As for what really gets the rest of the signs going? Well, read on to find out.