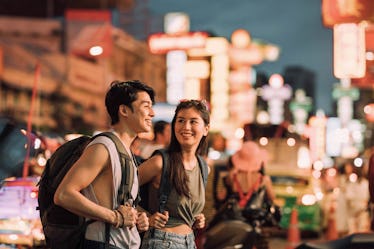 What You & Your SO Should Pack To Get The Cutest Couple Pics On Vacay
Traveling with your significant other is such a gift. The two of you get to create new memories together in a different environment. You get to try out different foods, participate in fun activities, and of course, take a million and a half photos to document the trip. In order to get beautiful pictures, you need more than some cute poses and a decent camera: You need to know what to pack for vacation with your partner so you have all of the supplies to make your travel pics pop.
From matching and complementary clothing pieces, to just making sure you have a tripod that can snap pics with a Bluetooth remote, there are quite a few things you can bring to seriously step up your Instagram game for you and your partner. Taking photos together while you're on vacation is definitely a priority, so you want to make sure you're as prepared as possible to snap some memories that will last you the rest of your lives.
If you and your SO are headed on a vacation sometime soon, try following these few tips and investing in a few new items to make your pictures worthy of your amazing trip.