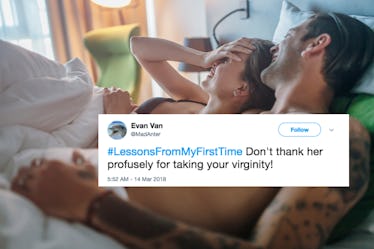 People Are Tweeting Lessons From Their First Time Having Sex & Yeah, Take Notes
There are plenty of sexual milestones we all go through in life. There's the first time you go through puberty. The first time you find yourself sexually attracted to another person. The first time you share a kiss with another person. And, of course, there's the first time you have sex. As anyone who's ever watched a rap music video or even an episode of The Bachelor can tell you, sex comes with a lot of hype. Before it actually takes place, it's normal to find yourself wondering what to know about your first time having sex.
I mean, for me, I went to Catholic school, so I really, truly knew nothing about sex, other than being taught it was wrong if it was done before marriage. In fact, the only reason I knew what penetrative sex really was, was because I put two and two together after a kid in my class told me a joke about a dad "parking his car" in the mom's "garage," and I was able to figure it out from there. Well, my friends, worry no more! A recent Twitter hashtag, #LessonsFromMyFirstTime, lists everything you should know going into your first time.
Now, be warned, some of these are serious, but for the most part, they're fairly silly and not at all unanimous. So take them with a grain of salt.