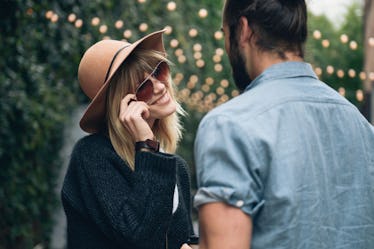 8 Women Reveal What They Do When Someone Hits On Their SOs In Front Of Them, Because WTF
When my boyfriend and I first started dating, he accompanied me on a trip home to San Francisco. One night we went out with a bunch of my friends from high school and college, and a random guy wouldn't stop drunkenly hitting on me. I loved the way my boyfriend handled the whole thing. He laughed it off without a hint of jealousy while still letting me know he was there if I needed him. The whole thing came so seamlessly to him, but knowing what to do when someone hits on your partner can often be pretty tricky.
When the tables have turned and I've had to stand around awkwardly while some girl hits on him, I've found myself totally unsure about what to do. It's not really in my nature to fight or get jealous. But I'm also not sure what, if anything, I'm supposed to do. Do I interject? Do I put a hand on his shoulder to send the unwelcome flirter a hint? Is doing nothing bad?! I have no freaking idea. Well, luckily, in a recent Reddit AskWomen thread, real ladies shared how they've handled being in this position, and they've got some excellent advice.