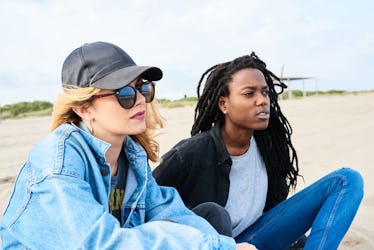 Here's What Experts Suggest Trying If You & Your Partner Don't Travel Well Together 
I love to travel. There's practically no place on the planet I'm not curious to see. But even an enthusiastic and laid-back traveler like me still has their quirks. For example, when I'm on vacation, I want to relax. Yes, I also want to see some sights, but I prefer a loose schedule. What that means for me is that I don't vacation well with folks who prefer to wake up super early and follow a carefully crafted itinerary to the letter. Easy answer. However, it gets more complicated when you and your partner don't travel well together and you have differing vacation philosophies. After all, the point of having a partner is to share in life's adventures with them, right? But if you drive each other bananas any time you attempt a romantic getaway, that can be a real problem.
Is being incompatible travel partners a deal-breaker for the relationship? Or is this a problem with a solution? To figure out how to deal, I reached out to relationship experts, and here's the good news: There is hope in finding a middle ground, but it will take some work. "It's not an issue to be resolved — it needs to be managed," Anita Chlipala, licensed marriage and family therapist and author of First Comes Us: The Busy Couple's Guide to Lasting Love, tells Elite Daily. "Each partner has their own preferences and values. When they're at odds, it can seem like a couple is incompatible, but it really comes down to a couple's ability to understand each other, accept each other, and compromise."
What does this "compromise" actually look like in practice? Here's what the experts say to do if you and your partner don't travel well together.