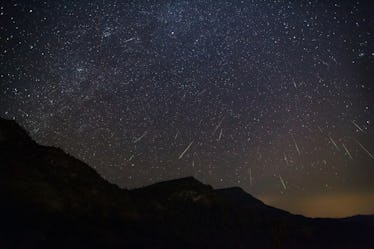 What Time Is The Leonids Meteor Shower? Here's When You Should Gaze Up At The Sky
We're calling out to all of the stargazing space lovers out there, because tonight is your lucky time to experience something out of this world (quite literally). The 2017 Leonids meteor shower will light up the sky on Nov. 17 and 18, and it will be a sight you truly do not want to have the FOMO feels about. So, put that phone down for a bit and don't miss taking a moment to look up in the night sky. You might be wondering what time is the Leonids meteor shower 2017, and when should you plan to step outside to see the magic unfold?
Well, adjust your calendar if you're busy Nov. 17 and 18, because the Leonids meteor shower was predicted to reach its peak in the early AF hours of Friday. If weather is on your side, you will have perfect viewing conditions, so grab your blankets and let's get that fire pit going. The official peak time was set to occur before dawn this Friday, but don't start stressing out if you missed it. We reported earlier that you'll have pretty spectacular viewing conditions on Saturday Nov. 18 as well around 2 a.m, so get ready to see something surreal happening miles and miles above you.
How Will The New Moon Affect The Leonids Meteor Shower?
On Saturday, Nov. 18, the moon will be in its "new" (aka, its first) phase, when it is not very visible in the night sky. If you know anything about the moon, sometimes its light makes it harder to see the stars in the sky. I mean, we do love you very much, moon, but sometimes you make it difficult AF for us to see things.
Luckily for us, the new moon on Saturday will actually make it super dark outside, giving us epic viewing conditions. You'll have an even better chance of catching that spectacular meteor shower, especially if you live outside the city.
What Should We Expect To See?
Even though we will be blessed with great conditions, you still shouldn't get your hopes too high and expect endless meteors cascading across the night sky. According to Space.com, a single earthling should expect to see about 10 to 15 meteors an hour. If this still sounds super dreamy to you, just wait for this next slice of magic. Every 33 years, the Leonids meteor shower makes its grand entrance as a major meteor storm, where 1,000 "shooting stars" race across the sky each hour.
When's The Best Time To Plan Your Viewing Party?
This year, we're getting pretty lucky with the new moon that'll help us see more in the night sky. So, prepare for an epic meteor shower viewing party. According to Weather.com, the ultimate time to throw a viewing party is right before dawn. If you live in the city, maybe take a drive outside to someplace where there are far less bright lights and skyscrapers. You'll need some time for your eyes to adjust, so plan accordingly.
Needless to say, it looks like Saturday just before dawn is the best time to plan your galactic festivities. Round up all of your girlfriends, family members, and make a Facebook invite for this event you do not want to miss. Don't forget the space-themed snacks and drinks, and of course, the blankets to keep you warm as you stare up into the sky.
We hope you have a dreamy Leonids meteor shower party, and stay warm out there, peeps. Get ready to make all of the wishes you want on every single meteor you see, and don't forget your gloves and hot chocolate.