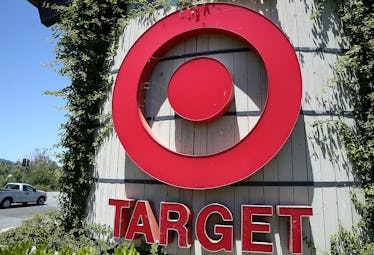 Target Will Open For Black Friday As Soon As You're Done With Thanksgiving Dinner
Justin Sullivan/Getty Images News/Getty Images
Now that spooky season has officially come to an end, it's time to start thinking about what's next. As you know, Thanksgiving is right around the corner — and Black Friday is directly after that. If you're a shopping advocate, you're probably stoked about the latter. However, in order to properly map out your Black Friday shopping spree, you're going to need to know what time your favorite stores open. Like many others, you're probably asking yourself, "What time does Target open on Black Friday?" Luckily, the go-to department store will be opening its doors early.
When I say early, I mean early (like, a entire day early). According to a Black Friday press release, Target will be opening its doors on 5 p.m. local time on Nov. 22 (Thanksgiving) — and they'll stay open until 1 a.m. on Friday, Nov. 23. Then, Target will open again on Friday, Nov. 23 at 7 a.m. so all of the early risers can start their shopping sprees. With hours like those, it's clear that Target wants to make it easy for its customers to shop whenever they want to. So if you'd rather shop right after Thanksgiving dinner, go for it! But if you want to get a good night sleep before running around a department store, you can do that, too.
The simple thought of department stores on Black Friday reminds me of long, grueling checkout lines. However, Target is making strides toward an easier shopping experience — and I'm impressed. According to a press release, the company is now using "skip-the-line" checkout technology that helps customers, well, skip the lines.
So, how does it work? Per the release, Target employees will use handheld devices to scan customers' items while they're still in the store. Then, the buyers can immediately pay for their products with a credit card. It's literally that simple. However, I'm sure I'd be distracted by new items on my way out and have to check out a second time. I'm not ashamed, though.
In addition to flexible hours and easy checkout technology, Target is offering a Black Friday preview with a one-day sale on Thursday, Nov. 1, 2018. It'll give you a "sneak peek" at discounted items on Target.com until 11:59 p.m. PT, or at Target stores until they close on Nov. 1. If you already have a particular gift in mind for someone, see if it's currently on sale.
Mark Tritton, the executive vice president and chief merchandising officer of Target, talked about the store's convenient deals in a press release. He said,
We know many of our guests look forward to our Black Friday deals every year, and today, they can start shopping and save big on some of the hottest items of the season. Combined with the unmatched easy ways to shop with us — including new mobile technology that allows guests to skip the line for an even more convenient checkout — we're confident guests will save time and money, and experience the joy of the season by choosing Target.
Whether you decide to shop at Target on Nov. 1 or wait until Thanksgiving to dive into the deals, you're bound to find discounted gifts for your family and friends. I, personally, won't be shopping directly after Turkey Day dinner — but I'll certainly get out there on Black Friday.