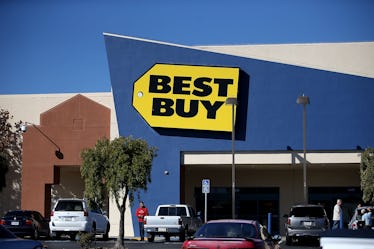 Best Buy Has Some Wild Hours For Black Friday, So Get Your Wallet Ready
Justin Sullivan/Getty Images News/Getty Images
Regardless of your age, who you are, or where you're from, snagging some hot, hot, hot deals for everyone on your Christmas list inarguably a glorious (and extremely refreshing) feeling. If you happen to be seeking out discounts on electronics this holiday season, you're probably planning on a trip to Best Buy during this year's Black Friday shopping trip. So if that is the case, you're most likely wondering what time Best Buy opens on Black Friday 2018. Get ready, though, because the hours are extremely extensive. You'll have more than enough opportunities to get there at least once.
No store does Black Friday better than Best Buy, so as you would imagine, their Thanksgiving and Black Friday hours are pretty unreal. According to the press release, the store opens early on Thanksgiving (Nov. 22) at 5 p.m. and stays open until 1 a.m. local time. Then, it's open on Black Friday (Nov. 23) from 8 a.m. to 10 p.m. local time. That weekend, on Saturday, Nov. 24, the store is open between 9 a.m. and 10 p.m. local time and on Sunday, Nov. 25, stores are open from 11 a.m. to 8 p.m. local time. Best Buy's hours during the week of Thanksgiving are absolutely wild, and they give you more than enough time to shop 'till you quite literally drop.
Best Buy's Black Friday deals and doorbusters look absolutely incredible this year, so make sure to plan out what you want to buy ahead of time. A few of the hottest deals, according to a press release, include a Toshiba 43-inch Smart TV for $129.99, $150 off an iPad Mini 4, $300 off a Samsung Galaxy Note9, S9, or S9+ with qualified activation, and $50 off a Facebook Portal with Alexa. The super store is offering so many discounts on some hella prime devices this year, and I'm personally psyched.
If you aren't a huge fan of shopping the day after Thanksgiving, you should definitely check out Best Buy's early Black Friday sales. Starting Thursday, Nov. 8 and going through Sunday, Nov. 11 at 11:59 p.m. CT, Best Buy will be offering several in-store and online sales on anything from iPad Pros to MacBook Pros, FujiFilm cameras, smart TVs, and even in-ear wireless headphones. The discounts are pretty unreal, so if post-Thanksgiving shopping isn't your thang, the pre-sales are definitely worth looking into.
I really, really love Black Friday — arguably more than most people. IMO, there's no better feeling than knocking all your Christmas shopping out of the way before your next door neighbor can play Mariah Carey's "All I Want For Christmas" all the way through, and Best Buy has so many sick deals to fill up that space under this year's holiday tree. Whether you're looking for a new phone, a TV, or even a First Generation Amazon Echo, there are a ton of items to choose from for unbelievably low prices. So go get that bread, as the kids say, and most importantly, go get those deals. I'm counting on you.