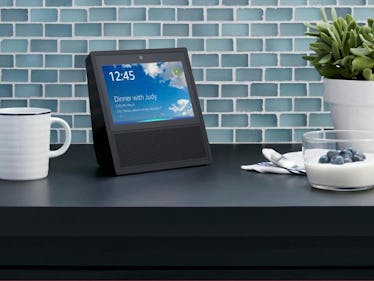 You Can Get A $100 Amazon Echo Show & $250 Off Macbooks At Best Buy's Early Black Friday Sale
I always love taking advantage of a good deal, but I'm not always wild about trekking to the mall on Black Friday. Go ahead and call me an old lady, but sometimes, going shopping on Black Friday can be way too exhausting. I've just eaten a gigantic meal and spent an inordinate amount of time with my loving (and extremely chaotic family), so usually, a big shopping trip isn't always in the cards for me. Luckily, though, Best Buy's early Black Friday 2018 deals are here, and offers include discounts on iPad Pros, MacBook Pros, and Amazon Echos. That post-food coma shopping trip won't even seem necessary.
Starting on Thursday, Nov. 8 through Sunday, Nov. 11 at 11:59 p.m. CT, Best Buy is offering several early Black Friday deals in-store and online on limited quantity items, according to a press release. And, lucky for many of you, several of these are discounts on personal electronic devices. If you're a die-hard Apple fan, you can save up to $150 on select iPad Pros, or up to $250 on MacBook Pros. If photography is more your thing, on the other hand, you'll be able to find Fujifilm Instax Mini 9 Cameras for a mere $49.99, and if you're all about those personal jam sessions, Jaybird X3 Sport In-Ear Wireless Headphones are selling for only $59.99. There's a ton of solid deals on personal electronic devices, so make sure to take a look at what they're offering.
If you're looking to upgrade your living space, Best Buy also has you covered in the home electronics department. According to the press release, a Samsung 43-inch Smart T.V. with HDR is selling for only $277.99 right now, and a Toshiba 55-inch Fire T.V. is going for only $349.99. If you're seeking out a voice-controlled speaker, though, First-Generation Amazon Echo Shows are only going for $99.99, and for the kitchen, you can save up to $280 on a KitchenAid Professional 500 Series Stand Mixer. I don't know about you, but I'm so excited, and to be completely honest, I can barely hide it.
Maybe you do enjoy spending Thanksgiving eve at the mall, though, and if that is, in fact, the case, you have nothing to worry about. According to the press release, on Nov. 22, 1,000 Best Buy stores in 47 states will open at 5 p.m. local time, offering a wide variety of Black Friday discounts. Almost all 1,000 stores will stay open until 1 a.m. local time on Friday, Nov. 23, and they'll re-open again at 8 a.m. local time, if you can maintain that unbreakable shopping stamina.
For those who find Black Friday shopping much too tiring, Best Buy is coming in clutch with their early Black Friday deals. Whether you're looking to upgrade your own selection of devices, or if you're trying to update your living space, they have so many cheap devices on sale until Sunday, Nov. 11. Honestly, my wallet is scared right now, so good luck to all of you.