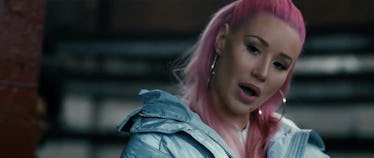 Iggy Azalea's New Song With Quavo Was Featured In A Super Bowl Commercial & It's Amazing
Among all of the exciting announcements that have emerged from Super Bowl commercials (ahem, the new Jurassic Park movie?!), it looks like there's about to be a new song to hit the top charts. You might be wondering what song was in the Monster Super Bowl commercial, and it's actually Iggy Azalea's latest creation.
As a relatively busy person, endless amounts of overwhelming thoughts tend to regularly consume my mind. And it's always right before I'm about to fall asleep. Aside from wondering what I'm going to make for dinner next week, and pondering if I'm ever going to actually learn how to golf, one of my many pressing life questions often happens to be "what ever happened to Iggy Azalea?" Honestly, I don't think I'm the only one who thinks about it. As 2014's ultimate sass master, the celeb who truly brought meaning to the word "Fancy," really hasn't appeared to do much of anything in quite a while. But popular technology company Monster Products debuted a Super Bowl commercial which says otherwise.
The ad starts with internet celeb Ricegum sitting on the subway. He passes Iggy, who in addition to rocking some seriously long pink locks, is giving off some serious attitude while jamming to a song in some sweet headphones. But we quickly noticed the unrecognizable tune she was listening to was pretty freaking catchy, and it turns out that it was actually Iggy Azalea's.
According to Billboard, the new song features Migos' lead rapper, Quavo, and its going to be released on her upcoming album, called Surviving The Summer. The rapper released four songs via WeTransfer in November 2017 and is planning to officially drop the full album in June 2018. WOW. Between Kylie Jenner's baby announcement and Iggy's new song, this might actually be the best Super Bowl of all time.
In an interview with iHeartRadio, Iggy explained that she wrote "Savior" during a difficult period of her life. She attributes the inspiration to her declining career, as well as her failed relationship. Iggy said,
I'd had a big breakup, and my career wasn't going well. And I sort of found myself in this space where everything that I was used to, just my day-to-day routine, had abruptly stopped. And I just didn't know how to get my life back together, or what my life looked like with all of these changes, and how to get a routine going again, and just how to get my happiness back and feeling normal. So that was the space that I was in when I wrote this song.
Listening to the lyrics, this song is actually incredible. Like, I'm pretty sure that most of us knew that Iggy was already one of the most badass rappers, but this beautiful little addition to her discography totally has me all aboard the Iggy train. In the words of Iggy in Savior, "So tell me now, if this ain't love then how do we get out?" That is some serious poetry, and I'm honestly obsessed.
In the rest of Monster's ad, Ricegum becomes super inspired by Iggy, and he wants to create a new type of headphones. This then leads him to create one of Monster's newest products, called AirLinks Elements. Ricegum then passes people on the street, and he realizes that people have actually started throwing out their old earbuds, in place of the new AirLinks. So whether you're a major fan of Iggy Azalea, or if you're down to listen to your music with some sweet new headphones, Monster's 2018 Super Bowl commercial was overall hella exciting for music fans everywhere.