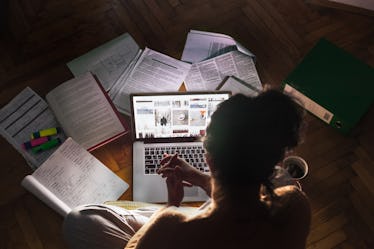 5 Realities People With OCD Face Every Single Day Living With The Disorder
We're taught from a young age that nothing and no one is perfect, but for people struggling with obsessive compulsive disorder (OCD), this can be a very difficult concept to grasp. For those unfamiliar with the disorder, OCD is a mental illness that stems from intrusive thoughts, images, or urges that trigger feelings of distress, leading to physical coping mechanisms, otherwise known as compulsions. Unless you struggle with the disorder yourself, it's almost impossible to truly understand what OCD is like, but in order to lend a helping hand to loved ones who may be suffering, it's important that we try.
It seems that a common misconception people make when it comes to OCD is assuming it's solely an issue of obsession, but that's only half the battle. According to the International OCD Foundation, the disorder is really split into two parts: the obsessions, and the compulsions that follow in order to cope with those intense fixations. For example, a common obsession for someone with OCD is the fear of catching germs or disease. The compulsions that follow would be things like excessive showering, tooth-brushing, washing hands, or cleaning the house.
In his new novel Turtles All the Way Down, award-winning novelist John Green has put into his own words what it's like to live with the "way-down terror" that is OCD. He told Entertainment Weekly that he had not originally intended to write an entire book on the subject, but he needed "to try and find expression" for the disorder that is very much a part of his daily life.
He explained,
Part of what's terrifying about pain is that it's difficult to access or describe via sentences. It's what's so frustrating for me and what's scary about my own mental health problems.
I wanted to be able to show people what it is really like. I wrote the book in the hopes that people who go through this would feel less alone and also in the hopes that people who don't go through it can maybe glimpse something about it.
While those of us who don't suffer from OCD ourselves can never truly understand what the disorder can do to a person both mentally and physically, it's nonetheless important that we try our best to do so. Here are a few examples of the realities people with OCD face in their everyday lives.