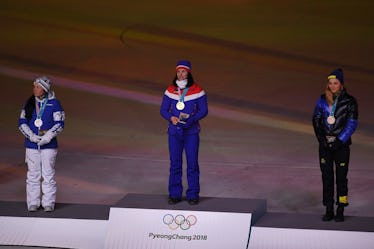 These Olympic Medalists Were Awarded At The Closing Ceremony & It Was Special
David Ramos/Getty Images Sport/Getty Images
The 2018 Winter Olympics closing ceremony in PyeongChang, South Korea is an event to honor Olympians for their hard work throughout the games. If you're watching the ceremony live, you might've noticed that a few teams were actually given medals during the event. So, what medals are given at the Olympics closing ceremony? It turns out athletes who competed in women's 30-kilometer and men's 50-kilometer mass start cross-country skiing were finally awarded.
That's right: The Olympians racing in the men 50-kilometer and women's 30-kilometer mass start cross-country skiing competition were given medals during the closing ceremony. TBH, I think that's pretty damn unforgettable, and I'd rather be awarded during an epic ceremony than any other normal day of the Olympics. I digress, though.
Let's start with the ladies (because, duh). On Sunday, Feb. 25 (PyeongChang time), Norway's Marit Bjoergen won the gold in the 30-kilometer mass start cross-country ski race. Bjoergen placed alongside Krista Parmakoski of Finland, who took home the silver medal, and Stina Nilsson of Sweden, who took home the bronze. Since their events were so last minute, they didn't get a personal medal event... so, they were awarded at the Olympics closing ceremony. Again, what a damn honor, am I right?
Bjoergen, the gold medal winner, is no stranger to the winner's podium. In fact, her medal for he 30-kilometer mass start was her 15th Olympic medal, according to Reuters. That's pretty freaking impressive. Apparently, she's super proud of the win, and told reporters, "I'm really happy, and it's hard to understand what I have done from my first Olympics in Salt Lake until now." Brava, Bjoergen! And congratulations, ladies!
Alright, now let's talk about the men's 50-kilometer mass start cross-country skiing event. On Saturday, Feb. 25 (PyeongChang time), men competed in the cross-country skiing event in a field of 71. Out of the skiers, Iivo Niskanen of Finland took home the gold. This was a huge deal, because this was Finland's first gold medal in the 2018 PyeongChang Olympics. Niskanen was also proud of his gold medal win, and said, according to NBC,
The first but not the last. Tomorrow is a new day. I [was] wanting to win my gold medal [over] this distance and it has been long years awaited, long four years actually. But [I] could handle the pressure and everything went perfectly today. It's a big deal for us. I saw the list. The last Olympic champion in an individual race was 20 years ago.
It took Niskanen 2 hours, 8 minutes, and 22.1 seconds to finish the 50-kilometer mass start cross-country race. Alexander Bolshunov of Russia took the silver medal, and OAR's (i.e. Olympics Athletes from Russia) Andrey Larkov took the bronze.
So, now that you know who won the cross-country skiing events at the Winter Olympics, let's talk about what cross-country skiing even is... because it's definitely not easy. Essentially, the sport requires athletes to ski a long distance through a snowy terrain. It's actually the oldest type of skiing, and developed as a sport at the end of the 19th century. Its Norwegian origins show that cross-country skiing was needed in the north to chase game and gather firewood during the winter season. Who knew it'd eventually become a sport in the Winter Olympics?
As much as cross-country skiing sounds like a leisurely activity, I'm sure I'd probably pass out if I ever tried. Heck, I get tired walking the grocery store in a snowstorm, and can't even imagine trekking through one on skis.
If you watched the Olympics closing ceremony, I hope you gave both men and women cross-country medalists a round of applause. I can't even imagine what it feels like to be given an Olympic medal, but being given one during the closing ceremony must feel so much better.