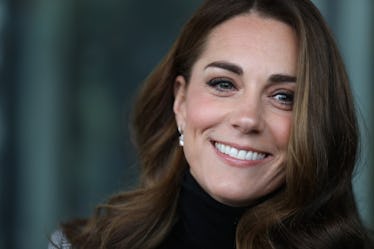 Here's What Kate Middleton Is Probably Like As A Partner, Based On Her Zodiac Sign
Tim P. Whitby/Getty Images Entertainment/Getty Images
The royal family really does seem like they have it all, don't they? The Duke and Duchess of Cambridge are no exception. After meeting in college in 2001, they started dating around 2002 and have been together ever since. (Except for their brief breakup circa 2007, but let's not talk about it.) And although they share much of their family life with the public, they're very good at keeping the inner-workings of their marriage private. We can, however, gauge what Kate Middleton is like as a partner based on her zodiac sign. It may not be a solid, concrete profile of Middleton in that role, but based on what we know about her, her zodiac sign proves that she really is as strong, determined, and charitable as she seems in front of the cameras.
Middleton was born on Jan. 9, 1982, which makes her a Capricorn. If you know anything about Middleton or have even just seen her on the news making appearances, then you'll know this makes total sense. According to Astrostyle, Capricorns are ruled by Saturn, the planet of maturity and discipline. Middleton definitely projects maturity and discipline in just about everything she does.
But what about her zodiac sign impacts how she is as a spouse? Well, Capricorns are not only disciplined and mature, but they're also "loyal, family-minded, hardworking, devoted, honest," and "fearless," which again, makes total sense. Middleton is clearly loyal, as she and Prince William have been together for about 15 years now, and she's definitely made her mark on the royal family. You don't do that without some serious loyalty to the Crown.
Middleton's zodiac sign says a lot more about what she's like as a wife, and TBH, some of it might surprise you!