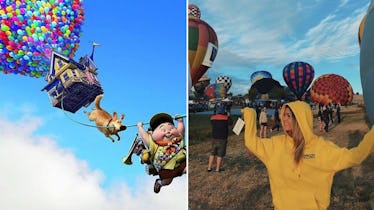 I Went On A Hot Air Balloon Ride Straight Out Of 'Up' & This Is What I Never Expected
At the base of the Sierra Nevada Mountains, drenched in the orange and pink hues of the sunrise, sits Rancho San Rafael Regional Park. Colorful hot air balloons were laid out on the park grounds waiting to be brought to life in the desert sunshine and baby blue skies. Locals clad in warm blankets and sweatshirts cuddled up with their hot chocolate to witness one of the most extraordinary traditions unfold before their very eyes: the Great Reno Balloon Race (GRBR). Being part of an event like this has been a far-fetched dream of mine ever since I fell in love with Disney's Up. I quickly learned what it's really like flying in a hot air balloon — and it's not what you might think.
The GRBR is actually the biggest free hot air balloon festival in the entire world. Driving down the winding roads to the race, I was inspired to see spectators and volunteers leaving their homes long before dawn to find the most perfect spot in the desert, anticipating the beauty that was to unfold. And if you're not familiar with Reno, you'd be surprised to learn that it's cold in the morning. (It was barely 49 degrees as I put back the sundress I had planned to wear for pics and traded it in for layers of sweatshirts and leggings.)
While reading about such an event and seeing saturated pics on Instagram of influencers posing amongst the jungle of balloons is cool and all, there's nothing like embracing the experience and getting (quite literally) swept up, up, and away with it. As I held onto my Bloody Mary (necessary) and chocolate croissant (also necessary), I fell in love with the energy surrounding me. The sun had not yet peeked above the mountaintops, and the Glow Show and Dawn Patrol balloons were getting ready to take flight.
The spectacular show had begun, with seven teardrop balloons lighting up the sky like fireworks.
This is the kind of fairy tale that dreams are made of.
Before too long, the sunshine and blue skies were the perfect Insta backdrop for balloons in every color imaginable.
When the grand event first kicked off back in 1982, it consisted of 20 hot air balloons. This year, 80 balloons filled the grounds — including Rocket the Flying Squirrel. That same balloon just so happened to be my ticket to cloud nine during the Target Competition.
Piloted by Mark Boulet, our hot air balloon was a clear winner in the pack of 80 balloons that would soon take over the Reno skyline.
As I held tight onto the basket and Mark lit up Rocket, I couldn't help but snap away, in purely basic fashion. The experience was so surreal to say the least, and in some ways, not what I ever expected. (If you're terrified of heights, you may want to hold off on this one.) I thought I would be nervous being up so high in a tiny basket attached to a very big balloon, rising above the rooftops, cars, people, and entire city down below. How the heck would we come back down, and what if we landed on a rooftop? Would we run into any planes or knock into another balloon?
When the volunteers waved and cheered us on during the sendoff, we were soaking up the attention, but I also felt in such a state of bliss. I was actually so calm the entire time — calmer than I imagined, because the small basket was a whole lot sturdier than I was picturing. (Depending on how big the basket and balloon are, two to six people can go up for the ride. In our case, three people were able to fit in Rocket's basket, including the pilot.)
We were literally a massive Rocket floating gracefully across the sky, as other balloons soared above and below us. (Yes, we waved to one another.)
It was incredible to witness Mark navigate this huge balloon all by himself like the real MVP. He read the wind, ignited the ginormous flame, and aimed for the large X target off in the distance on the ground. (This is all while we asked a million questions, and he explained everything so patiently.)
Balloons soared from every angle around Rocket, getting ready to drop a bean bag as close as possible to the center of the target. It's an art form, really — becoming one with the wind, and making your way over to the target where judges would later deliberate which balloon's bean bag landed the closest.
Each balloon receives a cumulative score over the two days of the competition (Friday and Saturday). There's a pretty shiny prize of $7,500 split between the top five ranking pilots.
At one point, we were the highest balloon in the sky. #SquadGoals, am I right?
We rose up to a quiet, peaceful place where it was just us, the balloon, and the never-ending stretch of horizon. You might talk to the others in the balloon a bit, but it's all about embracing the experience and taking it all in. If only everyone can get to know a place by taking a hot air balloon ride and seeing that setting through a different lens, just like a bird.
As we got closer and closer to the rooftops and starry-eyed locals down below, Mark tried to reason with the changing winds (which were quite moody) to send us on our way to a smooth landing. When he finally claimed a nice stretch of Reno desert, I was so entranced by my natural high, I completely forgot to hold on as we neared the ground.
The landing was a lot bumpier than I imagined, and I almost fell completely out of the basket as it balanced on its side for a hot sec. (Shoutout to my friend Katie for grabbing onto and saving a girl and her Tory Burch flip flops from complete and utter catastrophe.)
I quickly realized we had a much better situation than the balloon just above us that landed on the edge of a hill, and I was super impressed (and surprised, yet again) that Mark landed this big balloon all on his own, letting it fill up with cool air.
The Rocket Squad (my nickname for Mark's crew of four volunteers) rushed over to strap down, drop, and deflate the balloon. It was a team effort I'm lucky to say I was a part of.
Rocket laid on his side after an awesome run as we rolled him up into the bag until his next grand excursion. It's incredible to think that this oversized laundry bag held what was a massive icon soaring across the sky just 20 minutes ago.
We all gathered around the bag to sit on top of it until Rocket was perfectly cozy and deflated. Then it was time to load him up in the back of the trailer, and drive through the sunshine-filled hills back to Rancho San Rafael Regional Park where we started.
My feet were planted in the desert, but my head was still up in the clouds.
It's safe to say, the balloon race took my wanderlust to new heights, and I never wanted to come back down from my very own Up adventure. Until next time, Rocket! (You rock.)
If you have the opportunity to visit Reno, I highly suggest getting up early and checking out the GRBR for a rare experience (and Insta pics) of a lifetime. You'll truly feel like a local for the day.
Although you can only go on a balloon ride at this event if you're extended an invite by one of the sponsors (all of the balloons in the race are sponsored), you'll feel like you're part of the Reno community as you cheer on the pilots as they take flight. After the festival is over, you can go up in the air with Soaring Sports. This company offers private hot air balloon rides and cool packages, so dial up your girlfriends ASAP and get planning.