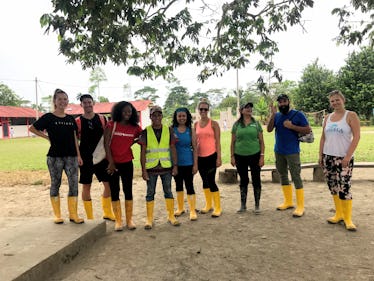 What It's Actually Like To Travel With 12 Strangers & Leave With Lifelong Friends
Have you ever considered traveling the world with a group of strangers? At first thought, this might sound a little unusual. However, what do you do when your friends or family can't join your adventures? What do you do when you're tired of waiting to fulfill your wanderlust? It's not always easy finding the perfect time to plan a trip with your big friend group, and sometimes, you just need to go for it solo. These days, there are a variety of companies that cater to solo travelers who want to see the world. I'm here to tell you what it's like to travel with a group of strangers, and leave with lifelong friends.
Solo travel isn't for everyone. Visiting a new country and planning every detail can be a bit overwhelming, especially when you've gotta do it all on your own. I recently went on a seven-day trip to Ecuador with Contiki and had an absolute blast. It was a breeze because I didn't have to worry about any of the logistics. I could just show up, meet likeminded people, and enjoy the beautiful country. Traveling with a group of people I didn't know felt nerve-racking in the beginning, but it was one of my best adventures thus far.