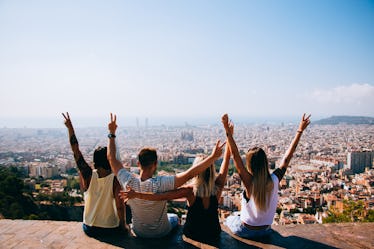 The Best Group Tours For The Solo Traveler Who Wants Out Of Her Comfort Zone
Everyone's talking about solo travel these days, and I can totally understand why. On the one hand, solo travel gives you the opportunity to experience exciting new adventures on your own schedule. You can do as much or as little as you'd like, whenever you'd like. On the other hand, you must make every decision on your own, and that can be a bit stressful. If you'd rather ease your way into a truly solo getaway, the best group tours for solo travelers offer the chance to experience the best of both worlds: freedom and new friendships.
Are you tired of friends who flake when it's time to plan a trip? Are you worried you'll miss out on your chance to travel because you're intimidated to go alone? Well, carefully curated group trips are perfect for the girl who's tired of waiting around, and wants to take a step outside her comfort zone. Life is short and the last thing you want to do is live with regret.
Consider signing up for a group tour if you've got the solo travel jitters! You'll still get a chance to explore the world with like-minded people who have the potential to turn into lifelong friends.