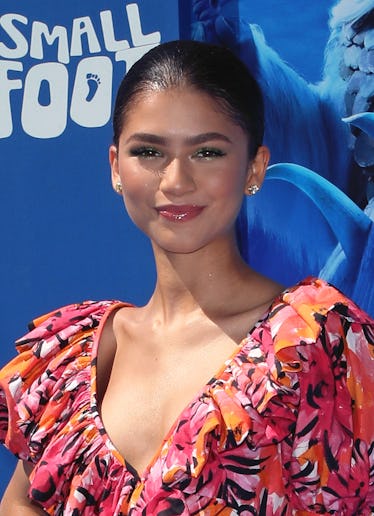 A Random Meme Called "Zendaya Is Meechee" Is Going Viral For The Most Hilarious Reason
David Livingston/Getty Images Entertainment/Getty Images
You know you've made it when the internet starts to make memes out of you. Actually, Zendaya probably knew she made it way before that (like when she started working as a professional actress, became a fashion icon, then was inevitably asked to do character voiceover work — but, you see my point). Zendaya is the voice of a new soon-to-be beloved animated character named Meechee from the upcoming film Smallfoot and she has caught someone's attention. If you've heard of the "Zendaya is Meechee" song, you're not alone. Not by a long shot. So, what is "Zendaya is Meecehee," exactly? Just an awesome song created by famous YouTuber Gabriel Gundacker, obviously.
Zendaya isn't the only A-list voice on Smallfoot's roster. Celebrity heavy-hitters like Channing Tatum, James Corden, Danny DeVito, LeBron James, and Common are also part of the cast, just to name a few. However, Zendaya's name takes center stage in Gundacker's hilarious song.
On Saturday, Sept. 22, Gundacker posted his music video, which features him hilariously giving a rundown of the actors in the movie and the characters they play through the corniest song ever, to Twitter where it quickly went viral. In the video, Gundacker frolics along in front of a promotional poster for the movie where fans can clearly see the names of the cast members stamped above their animated counterparts. The tune is easy and the words are simple. It goes like this: "Zendaya is Meechee," and so on and so forth...
You'll catch on pretty quick.
Just a damn delight, isn't it?
Gundacker has just under 100 thousand followers on Twitter but the video has already racked up nearly five million views in just three days. Honestly, not bad PR for Smallfoot, eh? While the posters don't really give us any other information regarding the plot or tone of the film, fans definitely learned at least one thing. Zendaya is Meechee.
Celebrities caught on to Gundacker's hilarious video and shouted him out on their own social media platforms. For example, Seth Rogen commented, "Thank you for this."
As for Zendaya, she likes it, too. Especially considering she has to deal with people mispronouncing her real name all the time. She even retweeted the video writing, "Sang my name right and everything."
As far as animated family movies are concerned, Smallfoot looks legit. It follows the tale of a group of Yetis, a.k.a. "Bigfoots," who discover a human, a.k.a. a smallfoot. In the movie, Meechee appears to be a friend and potential love interest to the lead character Migo, who is voiced by Channing Tatum. She also has a song titled "Wonderful Life" that is definitely giving me major "Let It Go" vibes, a la Frozen. However, Meechee is a lot less dainty than Princess Elsa and a lot more, er, fuzzy.
Here's a look at the trailer and "Wonderful Life." (Not for nothing, Niall Horan has a song on the soundtrack, too, featured here.)
If you're looking to welcome a little feel-good into your life, you can catch Smallfoot in theaters on Friday, Sept. 28. Or, you can just rewatch "Zendaya is Meechee" and take a scroll through Gundacker's Twitter feed.
Who wants to bet their movie theater popcorn that "Zendaya is Meechee" merch will be sold everywhere soon? Eh? Eh?