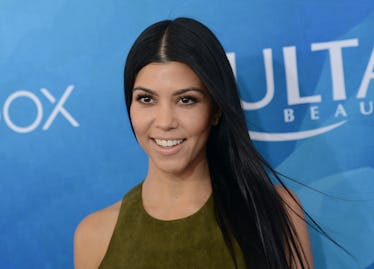 What Is Younes Bendjima's Net Worth? Kourtney Kardashian's BF Makes Less Than You Think
CHRIS DELMAS/AFP/Getty Images
With buzz of yet another Kardashian pregnancy report, there's plenty of interest in Kourtney Kardashian's boyfriend. Most notably, what is Younes Bendjima's net worth? Sure, why beat around the bush, right?
You might be surprised about the answer, however.
Given the Kardashian reputation for luxury and money, you probably expect Kourtney's boyfriend is a big earner. While Bendjima works as a model, his net worth is listed on WhatNetWorth.com as just $500,000, with an annual salary of $330,000.
Keep in mind he's just 24 years old, but something tells me his increased exposure from dating a Kardashian has got to help him land more professional work. Is his star on the rise or is he struggling?
It's not exactly like Bendjima is lacking in high profile jobs, as he's signed with the Next Model Management in New York, Los Angeles, and Paris, as well as Elite in Copenhagen and I LOVE in Milan. Bendjima has also done Vogue Spain and Le Monde M Magazine photo shoots and walked for Givenchy in 2013, as well as appeared in campaigns for Hermes, Burberry, Calvin Klein, and Ralph Lauren.
Sounds like he's definitely got a lot going on. Oh, and he also used to be a boxer before he took up modeling.
Bendjima was born in Algeria in 1993 and worked at his father's restaurant before training to be a boxer. He speaks Arabic, English, and French. With his mother living in Paris, he reportedly spends time in both France and New York.
Bendjima and Kardashian first started dating last October and were photographed together for the first time in December, leaving a hotel together.
Of course, prior to dating the model, Kardashian was in a relationship with Scott Disick and they have three kids together.
How did Kardashian and Bendjima meet? At Paris Fashion Week in 2016, naturally. A source had told The Sun at the time: "It's early days for them but they are enjoying each others' company."
Over the course of their relationship, they've been spotted together on numerous occasions and took vacations together to Cannes and Egypt.
Prior to dating Kardashian, Bendjima dated British model Jourdan Dunn, but the couple broke up in October 2016. Bendjima and Kardashian reportedly started dating just a week after his breakup.
With the latest reports that yet another Kardashian is pregnant, Kourtney took to Snapchat with a response. Since everyone wants some kind of confirmation or official announcement, her presence on social media definitely got some attention.
Kardashian posed in black leather pants and stuck her tongue out in one snap. How's that for an official statement?
As for Disick's response to Kardashian's pregnancy report, he hasn't commented yet, but Life & Style reported that Disick wants to "sabotage Kourtney's relationship" with Bendjima:
Scott will do anything to sabotage Kourtney's relationship, including showing up wherever Kourtney and Younes are hanging out together. He's also been asking around, trying to get some dirt on Younes so he can bring it back to Kourt and persuade her to dump him. He even threw a full-on tantrum recently, yelling and screaming at Kourt that Younes isn't right for her."
Good luck with that.
In a recent episode of Keeping Up With the Kardashians, Kourtney asked about how Disick was while she was away on vacation. Momager Kris Jenner explained, "I think that he was jealous because you were having fun spending time with other people." Kourtney responded, "He needs to get a f*cking life and leave me alone."
Time will tell how all of this shakes out, but stay tuned!
Check out the entire Gen Why series and other videos on Facebook and the Bustle app across Apple TV, Roku, and Amazon FireTV.