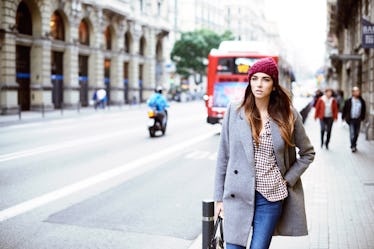 How To Plan Your Trip Home For The Holidays If You Can't Get A Plane Ticket
Picture this: You're running through the airport à la Kevin McCallister and co., attempting to keep your balance with your carry-on and bag of presents. Navigating through crowded terminals is never any easy challenge — especially during the holidays — but the good news is that you have options. For those wondering what Wanderu is, it's the travel app that could help you forgo the airport entirely (ah, bliss).
"The idea for Wanderu was born out of my own frustration at not being able to find and compare all available ground travel options for a specific route in one convenient place," Polina Raygorodskaya, CEO and co-founder of the platform, tells Elite Daily. "When I lived in New York, I used to travel to Boston often to visit my family and it would always take me forever to go to all bus and train companies' websites and manually compare the options they had. It was such a waste of time and it always boggled my mind how no one had come up with a solution for that."
To top it all off, when Raygorodskaya and her now Wanderu co-founder, Igor Bratnikov, were stranded in rural Virginia without their promised ride share, they realized a need for ground travel options was essential.
Thanks to their grievances and misadventures, you now have the option to let Wanderu handle the logistics for you. If a plane ticket is a little out of reach, you don't have to dread a bus or train trip. Going through the app allows you to pick a price-friendly option and compare arrival times that suit your needs. Consider it the encyclopedia of ground travel.
Like any method of transportation, there are a few things to note, starting with booking.
"Just like any other type of travel, the sooner your book your tickets the better," Raygorodskaya tells Elite Daily. "A lot of bus carriers base their prices on what is known as by-demand pricing, meaning that prices start low, including at $1 or $5 per trip, and then steadily go up the more a bus is filled and the closer it gets to the travel date."
Secondly, if you have to book last minute, chances are things can still work out well...
"The good thing about bus travel is that carriers are able to easily add more vehicles to their fleet," Raygorodskaya also tells us. "What that means is that if enough people have booked tickets to fill a bus in a specific time slot, the company will then add a second vehicle for the same time slot and prices will again start low."
...and the hassle when you arrive won't be as great.
"Bus stations are usually right in the center of the city, so if you travel by bus you will also save big on the taxi fare to take you to your final destination," she adds.
Still haven't figured out when you're headed home for the holidays?
Not to worry, travelers, but there are certainly statistics that can affect your adventure. According to Waze, a community-based traffic and navigation app, Dec. 22 from 3 p.m. to 5 p.m. is the worst time to drive during the holidays. If you need to head back from your relatives' ASAP, Christmas Day itself has the least amount of traffic on any day between Dec. 22 and Jan. 4. If you're heading home after the New Year, Jan. 1 is also a quiet traffic day, according to the app.
Safe travels, friends. Here's to hoping your adventure is a little smoother than this:
Check out the entire Gen Why series and other videos on Facebook and the Bustle app across Apple TV, Roku, and Amazon Fire TV.